Padlock Keys

Replace individual and get master padlock keys.
Key
Number
Key Type
Each

Master Lock

10G020
Additional/Replacement
00000000
000000
Cut-Resistant

Keyed Alike Padlocks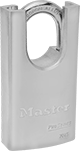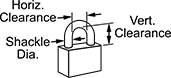 Shackle is concealed to make it difficult to cut. Choose these locks if you need several locks that open with the same key. If the lock or key with the key number you want isn't listed, order the "Other Key Numbers" and specify your desired key number.
Pin-tumbler key locking mechanisms are difficult to pick. Bump-resistant cylinders with pin-tumbler mechanisms are the most tamper resistant—they have a tapered top pin that stays put to prevent unlocking when a tool is tapped into the lock.
For technical drawings and 3-D models, click on a part number.
Vertical
Clearance
Horizontal
Clearance

Dia.

Material

Ht.

Wd.

Thick.

No.

of
Keys
Included

No.

of
Tumbler
Pins
Key


No.

1-5

6-Up

Each

Solid

Chrome-Plated

Steel Body

Master Lock

7045—

Bump-Resistant

Cylinder

1

3/16

"

7/8

"

5/16

"
Hardened Steel
3

3/8

"
1

3/4

"

7/8

"
2
5
10G020
0000000
000000
000000
00000000
000000