Padlock Keys

Replace individual and get master padlock keys.
Key Number
Key Type
Each

Abloy Security

4727924931
Additional/Replacement
00000000
00000
Weather-Resistant

Keyed Alike Padlocks with

No-Copy

Keys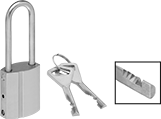 Brass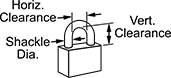 For added security, locks have specially designed keys that cannot be duplicated and cannot be removed when the lock is open. Choose these locks if you need several locks that open with the same key.
Disc-tumbler key locking mechanisms offer good pick resistance. When choosing between padlocks with seven or eleven discs, the lock with eleven discs is harder to pick.
For technical drawings and 3-D models, click on a part number.