Padlock Keys

Replace individual and get master padlock keys.
Key
Number
Key Type
Each

CCL Security

CAT1
Additional/Replacement
0000000
00000
Extra-Clearance

Keyed Alike Padlocks with Identification Tags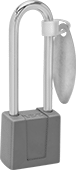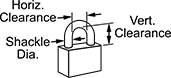 Vertical shackle clearance is greater than 1". Choose these locks if you need several locks that open with the same key. If the lock or key with the key number you want isn't listed, order the "Other Key Numbers" and specify your desired key number.
Disc-tumbler key locking mechanisms offer good pick resistance.
For technical drawings and 3-D models, click on a part number.
Vertical
Clearance
Horizontal
Clearance

Dia.

Material

Ht.

Wd.

Thick.

Color

No.

of
Keys
Included

No.

of
Tumbler
Discs
Key


No.

1-5

6-Up

Each

Solid Zinc Body

Brass Tag

2

3/4

"

3/4

"

1/4

"
Hardened Steel
1

3/8

"
1

1/2

"

3/4

"
Tan
2
6
CAT1
0000000
000000
000000
0000000
00000
5"

3/4

"

1/4

"
Hardened Steel
1

3/8

"
1

1/2

"

3/4

"
Tan
2
6
CAT1
0000000
00000
00000
0000000
0000