Keyway Broach Sets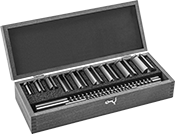 Cut precision keyways—these sets include broaches, bushings, and the necessary shims. Each tooth's cutting edge is a few thousandths of an inch larger than the one before. The cutting edges increase until they reach the required size. Broaches are for use in hand and hydraulic arbor presses and are great for maintenance and short-run production operations.
When broaching in multiple passes, shims slide between the broach and bushing to set the depth of the keyway.
Bushings rest inside the arbor hole of your workpiece. They have a slot that works as a guide for broaches. With bushings, you can use a single broach in a variety of arbor holes. Bushings for smaller arbor holes are collared for easier handling. The collar rests on top of the workpiece rather than being supported from below.
Note: Broaches have a style designation of A, B, B1, C, C1, D, D1, or E. For proper fit, broaches, bushings, and shims used together must have the same letter designation.
For Number of
Keyway Variations
Includes
For Use On
Each

Uncoated

High-Speed

Steel

6
A-Style Broach for 2 mm Wd. Keyway
A-Style Broach for 3 mm Wd. Keyway
A-Style 6 mm Dia. Bushing with Collar
A-Style 8 mm Dia. Bushing with Collar
A-Style 10 mm Dia. Bushing with Collar
Shims
Aluminum, Brass, Bronze, Iron, Plastic, Steel
0000000
0000000
15
A-Style Broach for

1/16

" Wd. Keyway
A-Style Broach for

3/32

" Wd. Keyway
A-Style Broach for

1/8

" Wd. Keyway
A-Style

1/4

" Dia. Bushing with Collar
A-Style

5/16

" Dia. Bushing with Collar
A-Style

3/8

" Dia. Bushing with Collar
A-Style

7/16

" Dia. Bushing with Collar
A-Style

1/2

" Dia. Bushing with Collar
Shims
Aluminum, Brass, Bronze, Iron, Plastic, Steel
0000000
000000
15
B-Style Broach for

1/8

" Wd. Keyway
B-Style

1/2

" Dia. Bushing with Collar
B-Style

5/8

" Dia. Bushing with Collar
B-Style

3/4

" Dia. Bushing with Collar
C-Style Broach for

3/16

" Wd. Keyway
C-Style Broach for

1/4

" Wd. Keyway
C-Style

7/8

" Dia. Bushing with Collar
C-Style 1" Dia. Bushing with Collar
C-Style 1

1/8

" Dia. Bushing with Collar
C-Style 1

1/4

" Dia. Bushing with Collar
C-Style 1

3/8

" Dia. Bushing with Collar
C-Style 1

1/2

" Dia. Bushing with Collar
Shims
Aluminum, Brass, Bronze, Iron, Plastic, Steel
0000000
000000
18
B-Style Broach for

1/8

" Wd. Keyway
B-Style Broach for

3/16

" Wd. Keyway
B-Style

1/2

" Dia. Bushing with Collar
B-Style

5/8

" Dia. Bushing with Collar
B-Style

3/4

" Dia. Bushing with Collar
B-Style

7/8

" Dia. Bushing with Collar
C-Style Broach for

1/4

" Wd. Keyway
C-Style Broach for

3/8

" Wd. Keyway
C-Style 1" Dia. Bushing with Collar
C-Style 1

1/8

" Dia. Bushing with Collar
C-Style 1

1/4

" Dia. Bushing with Collar
C-Style 1

3/8

" Dia. Bushing with Collar
C-Style 1

1/2

" Dia. Bushing with Collar
Shims
Aluminum, Brass, Bronze, Iron, Plastic, Steel
0000000
000000
26
C1-Style 20 mm Dia. Bushing with Collar
B1-Style Broach for 4 mm Wd. Keyway
B1-Style Broach for 5 mm Wd. Keyway
B1-Style 12 mm Dia. Bushing with Collar
B1-Style 14 mm Dia. Bushing with Collar
B1-Style 15 mm Dia. Bushing with Collar
B1-Style 16 mm Dia. Bushing with Collar
C1-Style Broach for 6 mm Wd. Keyway
C1-Style Broach for 8 mm Wd. Keyway
C1-Style 18 mm Dia. Bushing with Collar
C1-Style 19 mm Dia. Bushing with Collar
C1-Style 22 mm Dia. Bushing with Collar
C1-Style 24 mm Dia. Bushing with Collar
C1-Style 25 mm Dia. Bushing with Collar
C1-Style 26 mm Dia. Bushing with Collar
C1-Style 28 mm Dia. Bushing with Collar
C1-Style 30 mm Dia. Bushing with Collar
Shims
Aluminum, Brass, Bronze, Iron, Plastic, Steel
0000000
000000
32
D-Style Broach for

5/16

" Wd. Keyway
D-Style Broach for

3/8

" Wd. Keyway
D-Style Broach for

7/16

" Wd. Keyway
D-Style Broach for

1/2

" Wd. Keyway
D-Style 1

1/2

" Dia. Bushing
D-Style 1

5/8

" Dia. Bushing
D-Style 1

3/4

" Dia. Bushing
D-Style 1

7/8

" Dia. Bushing
D-Style 2" Dia. Bushing
D-Style 2

1/8

" Dia. Bushing
D-Style 2

1/4

" Dia. Bushing
D-Style 2

1/2

" Dia. Bushing
Shims
Aluminum, Brass, Bronze, Iron, Plastic, Steel
0000000
00000000
36
B-Style Broach for

1/8

" Wd. Keyway
B-Style Broach for

3/16

" Wd. Keyway
B-Style

1/2

" Dia. Bushing with Collar
B-Style

9/16

" Dia. Bushing with Collar
B-Style

5/8

" Dia. Bushing with Collar
B-Style

11/16

" Dia. Bushing with Collar
B-Style

3/4

" Dia. Bushing with Collar
B-Style

13/16

" Dia. Bushing with Collar
B-Style

7/8

" Dia. Bushing with Collar
C-Style Broach for

1/4

" Wd. Keyway
C-Style Broach for

3/8

" Wd. Keyway
C-Style

15/16

" Dia. Bushing with Collar
C-Style 1" Dia. Bushing with Collar
C-Style 1

1/16

" Dia. Bushing with Collar
C-Style 1

1/8

" Dia. Bushing with Collar
C-Style 1

3/16

" Dia. Bushing with Collar
C-Style 1

1/4

" Dia. Bushing with Collar
C-Style 1

5/16

" Dia. Bushing with Collar
C-Style 1

3/8

" Dia. Bushing with Collar
C-Style 1

7/16

" Dia. Bushing with Collar
C-Style 1

1/2

" Dia. Bushing with Collar
C-Style 1

9/16

" Dia. Bushing with Collar
Shims
Aluminum, Brass, Bronze, Iron, Plastic, Steel
0000000
000000
36
D1-Style Broach for 10 mm Wd. Keyway
D1-Style Broach for 12 mm Wd. Keyway
D1-Style Broach for 14 mm Wd. Keyway
D1-Style 32 mm Dia. Bushing
D1-Style 34 mm Dia. Bushing
D1-Style 35 mm Dia. Bushing
D1-Style 36 mm Dia. Bushing
D1-Style 38 mm Dia. Bushing
D1-Style 40 mm Dia. Bushing
D1-Style 42 mm Dia. Bushing
D1-Style 44 mm Dia. Bushing
D1-Style 45 mm Dia. Bushing
D1-Style 46 mm Dia. Bushing
D1-Style 48 mm Dia. Bushing
D1-Style 50 mm Dia. Bushing
Shims
Aluminum, Brass, Bronze, Iron, Plastic, Steel
0000000
00000000
47
B-Style Broach for

1/8

" Wd. Keyway
B-Style Broach for

3/16

" Wd. Keyway
B-Style

1/2

" Dia. Bushing with Collar
B-Style

9/16

" Dia. Bushing with Collar
B-Style

5/8

" Dia. Bushing with Collar
B-Style

11/16

" Dia. Bushing with Collar
B-Style

3/4

" Dia. Bushing with Collar
B-Style

13/16

" Dia. Bushing with Collar
B-Style

7/8

" Dia. Bushing with Collar
C-Style Broach for

1/4

" Wd. Keyway
C-Style Broach for

5/16

" Wd. Keyway
C-Style Broach for

3/8

" Wd. Keyway
C-Style

15/16

" Dia. Bushing with Collar
C-Style 1" Dia. Bushing with Collar
C-Style 1

1/16

" Dia. Bushing with Collar
C-Style 1

1/8

" Dia. Bushing with Collar
C-Style 1

3/16

" Dia. Bushing with Collar
C-Style 1

1/4

" Dia. Bushing with Collar
C-Style 1

5/16

" Dia. Bushing with Collar
C-Style 1

3/8

" Dia. Bushing with Collar
C-Style 1

7/16

" Dia. Bushing with Collar
C-Style 1

1/2

" Dia. Bushing with Collar
C-Style 1

9/16

" Dia. Bushing with Collar
Shims
Aluminum, Brass, Bronze, Iron, Plastic, Steel
0000000
000000
102
E-Style 2

5/16

" Dia. Bushing
B-Style Broach for

1/8

" Wd. Keyway
B-Style Broach for

3/16

" Wd. Keyway
B-Style

1/2

" Dia. Bushing with Collar
B-Style

9/16

" Dia. Bushing with Collar
B-Style

5/8

" Dia. Bushing with Collar
B-Style

11/16

" Dia. Bushing with Collar
B-Style

3/4

" Dia. Bushing with Collar
B-Style

13/16

" Dia. Bushing with Collar
B-Style

7/8

" Dia. Bushing with Collar
C-Style Broach for

1/4

" Wd. Keyway
C-Style Broach for

5/16

" Wd. Keyway
C-Style

15/16

" Dia. Bushing with Collar
C-Style 1" Dia. Bushing with Collar
C-Style 1

1/16

" Dia. Bushing with Collar
C-Style 1

1/8

" Dia. Bushing with Collar
C-Style 1

3/16

" Dia. Bushing with Collar
C-Style 1

1/4

" Dia. Bushing with Collar
C-Style 1

5/16

" Dia. Bushing with Collar
C-Style 1

3/8

" Dia. Bushing with Collar
C-Style 1

7/16

" Dia. Bushing with Collar
C-Style 1

1/2

" Dia. Bushing with Collar
C-Style 1

9/16

" Dia. Bushing with Collar
D-Style Broach for

3/8

" Wd. Keyway
D-Style Broach for

7/16

" Wd. Keyway
D-Style Broach for

1/2

" Wd. Keyway
D-Style 2

3/16

" Dia. Bushing
D-Style 1

7/16

" Dia. Bushing
D-Style 1

1/2

" Dia. Bushing
D-Style 1

9/16

" Dia. Bushing
D-Style 1

5/8

" Dia. Bushing
D-Style 1

11/16

" Dia. Bushing
D-Style 1

3/4

" Dia. Bushing
D-Style 1

13/16

" Dia. Bushing
D-Style 1

7/8

" Dia. Bushing
D-Style 1

15/16

" Dia. Bushing
D-Style 2" Dia. Bushing
D-Style 2

1/16

" Dia. Bushing
D-Style 2

1/8

" Dia. Bushing
D-Style 2

1/4

" Dia. Bushing
E-Style Broach for

5/8

" Wd. Keyway
E-Style Broach for

3/4

" Wd. Keyway
E-Style 2

3/8

" Dia. Bushing
E-Style 2

7/16

" Dia. Bushing
E-Style 2

1/2

" Dia. Bushing
E-Style 2

9/16

" Dia. Bushing
E-Style 2

5/8

" Dia. Bushing
E-Style 2

11/16

" Dia. Bushing
E-Style 2

3/4

" Dia. Bushing
E-Style 2

13/16

" Dia. Bushing
E-Style 2

7/8

" Dia. Bushing
E-Style 2

15/16

" Dia. Bushing
E-Style 3" Dia. Bushing
Shims
Aluminum, Brass, Bronze, Iron, Plastic, Steel
0000000
00000000