Rolling Step Stools

1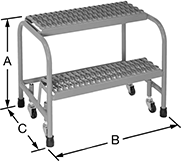 6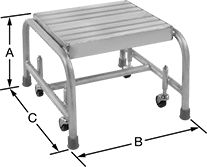 9
With spring-loaded casters, these step stools are easy to move between work areas. When you're on the stool, the casters retract to keep the stool stationary. When you step off, the casters roll again.
You are responsible for adhering to local, state, and federal safety codes, including OSHA.
Steel stools are durable to handle most work environments. Aluminum stools are lighter than steel, making them easier to move.
Perforated, coated, and ribbed steps provide good slip resistance while being easy on your shoes. Serrated steps provide maximum slip resistance but are uncomfortable to stand on for prolonged periods.
Style

Cap.,




lbs.

Ht.(A)

Wd.




(B)

Dp.




(C)

Dia.

Ht.

Wd.

Dp.

Dia.

Ground
Clearance


Ht.

Assembled
or
Unassembled
Wheel
Configuration
Specifications
Met
Choose
a
Color
Each

Painted Steel

1
350
14"
__
__
16"
14"
__
__
11"
__
Unassembled
Three Swivel Casters
__
0000000
0000000

With Serrated Steps

6
500
20"
27"
23"
__
20"
24"
9

1/2

"
__
3

3/4

"
Assembled
Four Swivel Casters
OSHA Compliant 29 CFR 1910.23, ANSI A14.7, Cal/OSHA Compliant Title 8 Section 3622, Cal/OSHA Compliant Title 8 Section 3627
Gray
000000
000000

Aluminum

With Ribbed Steps

9
350
12"
18"
18"
__
12"
16"
14"
__
__
Assembled
Four Swivel Casters
OSHA Compliant 29 CFR 1910 Subpart D, ANSI/ASSE A1264.1
__
0000000
000000
| | | | |
| --- | --- | --- | --- |
| Replacement Nonskid Feet for Style 9 (Pkg. of 4) | 0000000 | Pkg. | 00000 |