Timers

A

B

C

D

E

F

G

H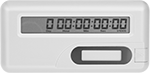 J

K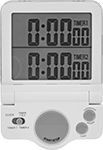 L

M

N

P

Q

R

S

T

U

V

W
Style Q timers have an extra-loud alarm that can be heard over background noise in a typical manufacturing environment.
Timers with a calibration certificate traceable to NIST have been tested to NIST standards to ensure accuracy.
Timers with a memory function automatically return the display to the last programmed time. Good for timing repetitive intervals.
Style
Timing
Functions

Max.




No.

of
Events

Max.


Timer
Duration

Max.


Alarm
Duration
Resolution

Ht.

Wd.

Dia.

Dp.

Material
Color
Backing
Type
Batteries
Included
Features
Each

Timers

A
Count Up
Count Down
Pause
1
100 min.
12 sec.
1 sec.
2

3/4

"
2

3/8

"
__

1/4

"
Plastic
Gray
Magnetic
Yes
Alarm
00000000
000000
B
Count Up
Count Down
Pause
1
100 min.
12 sec.
1 sec.
2

1/8

"
2

1/2

"
__
1"
Plastic
White
Magnetic
Yes
Alarm
Built-In Stand
Memory Function
00000000
00000
C
Count Up
Count Down
Pause
Clock
1
24 hrs.
Continuous
1 sec.
1

3/4

"
__
3

1/8

"
__
Plastic
White
__
Yes
Alarm
Memory Function
00000000
00000
D
Count Up
Count Down
Pause
1
24 hrs.
12 sec.
1 sec.
2

1/2

"
3

3/4

"
__
1"
Plastic
Gray
Magnetic
Yes
Alarm
Built-In Stand
Memory Function
0000000
00000
E
Count Up
Count Down
Pause
1
9,999 min.
Continuous
1 min.
2"
3"
__

5/8

"
Plastic
Red
Magnetic
Yes
Alarm
Built-In Stand
Memory Function
0000000
00000
F
Count Up
Count Down
Pause
Clock
1
24 hrs.
1 min.

1/100

sec.
3

3/4

"
3

3/4

"
__
3"
Plastic
Gray
__
Yes
Alarm
Built-In Stand
Memory Function
000000
00000
G
Count Up
Count Down
Pause
Clock
4
100 hrs.
1 min.
1 sec.
2

1/2

"
2

3/4

"
__

1/2

"
Plastic
White
__
Yes
Alarm
Memory Function
0000000
00000
H
Count Up
Count Down
Pause
Clock
6
100 hrs.
1 min.
1 sec.
2

3/8

"
2

3/4

"
__
1"
Plastic
Gray
__
Yes
Alarm
Memory Function
0000000
00000
J
Count Up
Count Down
Clock
2
3,000 days
15 sec.

1/100

sec.
2

7/8

"
5"
__

7/8

"
Plastic
Silver
__
Yes
Built-In Stand
00000000
00000
K
Count Down
1
100 min.
30 sec.
1 sec.
2

1/2

"
2

1/2

"
__

1/2

"
Plastic
Red
Magnetic
Yes
Alarm
Built-In Stand
Memory Function
00000000
00000
L
Count Up
Count Down
2
24 hrs.
1 min.
1 sec.
3

3/4

"
5"
__

1/2

"
Plastic
White
__
Yes
Alarm
Memory Function
00000000
00000
M
Count Up
Count Down
4
100 hrs.
1 min.
1 sec.
2

7/8

"
2

1/2

"
__

1/2

"
Plastic
Black
Magnetic
Yes
Alarm
Built-In Stand
00000000
00000

Timers with Calibration Certificate Traceable to NIST

E
Count Up
Count Down
Pause
1
9,999 min.
Continuous
1 min.
2"
3"
__

5/8

"
Plastic
Red
Magnetic
Yes
Alarm
Built-In Stand
Memory Function
0000000
00000
J
Count Up
Count Down
Clock
2
3,000 days
15 sec.

1/100

sec.
2

7/8

"
5"
__

7/8

"
Plastic
Silver
__
Yes
Built-In Stand
00000000
00000
N
Count Up
Count Down
Pause
1
100 min.
1 min.
1 sec.
2

1/4

"
2

1/2

"
__

1/2

"
Plastic
Black
Magnetic
Yes
Alarm
Built-In Stand
0000000
00000
P
Count Up
Count Down
Pause
Clock
2
24 hrs.
1 min.
1 sec.
2

1/8

"
2

3/4

"
__

7/8

"
Plastic
Black
Magnetic
Yes
Alarm
Built-In Stand
Memory Function
0000000
00000
Q
Count Up
Count Down
Pause
2
100 hrs.
1 min.
1 sec.
3"
3

1/2

"
__

5/8

"
Plastic
White
Magnetic
Yes
Alarm
Built-In Stand
Memory Function
0000000
00000
R
Count Up
Count Down
Pause
Clock
3
20 hrs.
1 min.
1 sec.
3

7/8

"
2

5/8

"
__
1"
Plastic
Black
__
Yes
Alarm
Memory Function
0000000
00000
S
Count Up
Count Down
1
100 hrs.
1 min.
1 sec.
2"
1

1/2

"
__

3/4

"
Plastic
White
Magnetic
Yes
Alarm
Clip
Keychain Ring
00000000
00000
T
Count Up
Count Down
1
100 min.
1 min.
1 sec.
2

3/4

"
3"
__
1"
Plastic
White
__
Yes
Alarm
Built-In Stand
00000000
00000
U
Count Up
Count Down
1
100 min.
1 min.
1 sec.
3

1/4

"
3"
__

1/2

"
Plastic
White
__
Yes
Alarm
Built-In Stand
Memory Function
Suction Cups
Waterproof
00000000
00000
V
Count Down
3
100 hrs.
1 min.
1 sec.
3

1/4

"
2"
__

1/2

"
Plastic
White
Magnetic
Yes
Alarm
Built-In Stand
Memory Function
00000000
00000
W
Count Up
Count Down
1
24 hrs.
1 min.
1 sec.
3

1/4

"
2

1/2

"
__

1/2

"
Plastic
White
__
Yes
Alarm
Built-In Stand
Memory Function
Repeat Function
Voice Alerts
00000000
00000
Analog Timers
A

B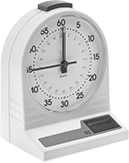 C
Timing
Functions

Max.




No.

of
Events

Max.

Timer


Duration,




min.

Resolution

Max.


Alarm
Duration

Ht.

Wd.

Dp.

Material
Color
Power
Source
Batteries
Included
Features
Each
A
Count Down
1
60
1 min.
1 sec.
3

3/4

"
3

3/4

"
2"
Plastic
White
Spring Wound
__
Alarm
0000000
000000
B
Count Down
1
30
1 min.
1 sec.
3

1/2

"
3"
2

1/2

"
Plastic
Black
Spring Wound
__
Alarm
000000
00000
B
Count Down
1
60
1 min.
1 sec.
3

1/2

"
3"
2

1/2

"
Plastic
Black
Spring Wound
__
Alarm
000000
00000
C
Count Up, Pause
1
60
1 sec.
__
6

3/4

"
5

1/4

"
3

3/4

"
Plastic
White
Battery
Yes
Second Hand
0000000
000000