Hands-Free

Wall-Mount

Sinks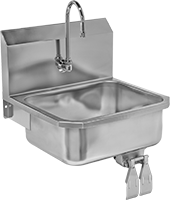 A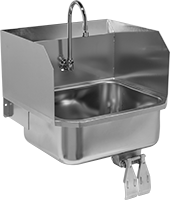 B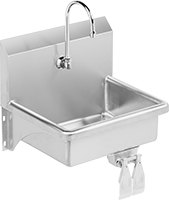 C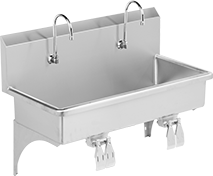 D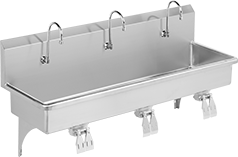 E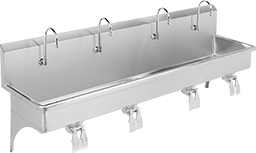 F
Press the pedals with your knees for water; release them to stop the flow. These sinks have rounded corners that are easy to clean and resist buildup.
Sinks that meet NSF/ANSI 372 have parts that comply with requirements for lead content when they touch water. They are typically used in food service applications.
Sinks with 0.5 gpm flow rate are useful when water consumption is a concern.
Touch-free faucet kit (sold separately) converts the faucet to a touch-free faucet.
Energy efficiency requirements restrict sales of sinks that cannot be sold to the listed jurisdictions/areas.
Wd.

Dp.

Ht.

Wd.

Dp.

Ht.

Backsplash


Ht.

Drain
Opening


Dia.

Spout
Type
Pipe
Size

Thread
Type
Mounting
Fasteners
Included

No.


of

Dia.

For
Use
Outdoors
Includes
Cannot
Be
Sold To
Each

304 Stainless Steel with

Chrome-Plated

Brass Faucet

A
16"
15

1/4

"
22

3/4

"
14"
11"
5"
8"
2"
Swivel

1/2

NPT

No
2

1/4

"
Yes
Drain with Strainer, One Mounting Bracket
__
00000000
0000000
B
16"
15

1/4

"
22

3/4

"
14"
11"
5"
8"
2"
Swivel

1/2

NPT

No
2

1/4

"
Yes
Drain with Strainer, One Mounting Bracket
__
00000000
000000
C
19"
16"
27"
16"
12

1/2

"
6"
9"
2"
Swivel

1/2

NPT

No
3

1/4

"
Yes
Drain with Strainer, One Mounting Bracket
__
00000000
000000
C
23"
20

1/2

"
31

1/2

"
20"
17"
9"
10

1/2

"
2"
Swivel

1/2

NPT

No
3

1/4

"
Yes
Drain with Strainer, One Mounting Bracket
__
00000000
00000000

304 Stainless Steel with

Chrome-Plated

Brass

Faucet—

Meets

NSF/ANSI

2,

NSF/ANSI 372

A
19"
18"
27

3/4

"
17"
14"
7"
9

1/2

"
2"
Swivel

1/2

NPT

No
3

1/4

"
Yes
Drain with Strainer, One Mounting Bracket
__
00000000
000000
A
21"
20"
30

3/4

"
19"
16"
10"
9

1/2

"
2"
Swivel

1/2

NPT

No
3

1/4

"
Yes
Drain with Strainer, One Mounting Bracket
__
00000000
00000000
B
19"
18"
27

3/4

"
17"
14"
7"
9

1/2

"
2"
Swivel

1/2

NPT

No
3

1/4

"
Yes
Drain with Strainer, One Mounting Bracket
__
00000000
00000000
D
40"
20"
29

1/4

"
37"
16

1/2

"
8"
10"
2"
Swivel

1/2

NPT

No
6

1/4

"
Yes
Drain with Strainer, Two Mounting Brackets
__
00000000
00000000
E
60"
20"
29

1/4

"
57"
16

1/2

"
8"
10"
2"
Swivel

1/2

NPT

No
6

1/4

"
Yes
Drain with Strainer, Two Mounting Brackets
__
00000000
00000000
F
80"
20"
29

1/4

"
77"
16

1/2

"
8"
10"
2"
Swivel

1/2

NPT

No
9

1/4

"
Yes
Drain with Strainer, Three Mounting Brackets
__
00000000
00000000

304 Stainless Steel with

Chrome-Plated

Brass Faucet

A
16"
15

1/4

"
22

3/4

"
14"
11"
5"
8"
2"
Swivel

1/2

NPT

No
2

1/4

"
Yes
Drain with Strainer, One Mounting Bracket
CA, CO, DC, HI, MA, ME, NJ, OR, RI, VT, WA
00000000
000000
B
16"
15

1/4

"
22

3/4

"
14"
11"
5"
8"
2"
Swivel

1/2

NPT

No
2

1/4

"
Yes
Drain with Strainer, One Mounting Bracket
CA, CO, DC, HI, MA, ME, NJ, OR, RI, VT, WA
00000000
000000
C
19"
16"
27"
16"
12

1/2

"
6"
9"
2"
Swivel

1/2

NPT

No
3

1/4

"
Yes
Drain with Strainer, One Mounting Bracket
CA, CO, DC, HI, MA, ME, NJ, OR, RI, VT, WA
00000000
000000
C
23"
20

1/2

"
31

1/2

"
20"
17"
9"
10

1/2

"
2"
Swivel

1/2

NPT

No
3

1/4

"
Yes
Drain with Strainer, One Mounting Bracket
CA, CO, DC, HI, MA, ME, NJ, OR, RI, VT, WA
00000000
00000000

304 Stainless Steel with

Chrome-Plated

Brass

Faucet—

Meets

NSF/ANSI

2,

NSF/ANSI 372

A
19"
18"
27

3/4

"
17"
14"
7"
9

1/2

"
2"
Swivel

1/2

NPT

No
3

1/4

"
Yes
Drain with Strainer, One Mounting Bracket
CA, CO, DC, HI, MA, ME, NJ, OR, RI, VT, WA
0000000
000000
A
21"
20"
30

3/4

"
19"
16"
10"
9

1/2

"
2"
Swivel

1/2

NPT

No
3

1/4

"
Yes
Drain with Strainer, One Mounting Bracket
CA, CO, DC, HI, MA, ME, NJ, OR, RI, VT, WA
0000000
00000000
B
19"
18"
27

3/4

"
17"
14"
7"
9

1/2

"
2"
Swivel

1/2

NPT

No
3

1/4

"
Yes
Drain with Strainer, One Mounting Bracket
CA, CO, DC, HI, MA, ME, NJ, OR, RI, VT, WA
00000000
00000000
D
40"
20"
29

1/4

"
37"
16

1/2

"
8"
10"
2"
Swivel

1/2

NPT

No
6

1/4

"
Yes
Drain with Strainer, Two Mounting Brackets
CA, CO, DC, HI, MA, ME, NJ, OR, RI, VT, WA
00000000
00000000
E
60"
20"
29

1/4

"
57"
16

1/2

"
8"
10"
2"
Swivel

1/2

NPT

No
6

1/4

"
Yes
Drain with Strainer, Two Mounting Brackets
CA, CO, DC, HI, MA, ME, NJ, OR, RI, VT, WA
00000000
00000000
F
80"
20"
29

1/4

"
77"
16

1/2

"
8"
10"
2"
Swivel

1/2

NPT

No
9

1/4

"
Yes
Drain with Strainer, Three Mounting Brackets
CA, CO, DC, HI, MA, ME, NJ, OR, RI, VT, WA
00000000
00000000
| | | | |
| --- | --- | --- | --- |
| Replacement Knee Valve (with 2 Pedals) | 0000000 | Each | 0000000 |
| Valve Repair Kit | 0000000 | Each | 00000 |
| Replacement Strainer | 00000000 | Each | 00000 |
| Replacement Faucet Spout | 0000000 | Each | 000000 |
| Replacement Aerator for Sink with 0.5 gpm Flow Rate | 00000000 | Each | 0000 |
| Touch-Free Faucet Kit | 00000000 | Each | 000000 |
| Replacement Aerator for Sink with 2 gpm Flow Rate (Cannot Be Sold To: CA, CO, DC, HI, MA, ME, NJ, OR, RI, VT, WA) | 00000000 | Each | 0000 |