Quick-Clamp

Adjustable Handles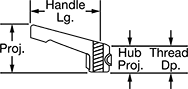 For fast clamping anywhere along a threaded rod, press the button to slide the handle into position; release the button to secure. These handles are also known as clamping handles.
Plastic handles are a lightweight alternative to metal. They resist oil, grease, and solvents.
Zinc handles have good corrosion resistance.
For technical drawings and 3-D models, click on a part number.
Size

Pitch,


mm

Dp.

Handle


Lg.

Projection
Hub
Projection
Insert Material

Temp.




Range,

°F

Each

Threaded Through Hole

Black Nylon Plastic

1/4

"-20

__
1"
2

9/16

"
1

3/4

"
1"
Black-Oxide Steel
-50° to 225°
0000000
00000

5/16

"-18

__
1

1/8

"
3

1/16

"
2

3/16

"
1

1/8

"
Black-Oxide Steel
-50° to 225°
0000000
00000

3/8

"-16

__
1

1/8

"
3

1/16

"
2

3/16

"
1

1/8

"
Black-Oxide Steel
-50° to 225°
0000000
00000

1/2

"-13

__
1

1/2

"
4

1/4

"
2

15/16

"
1

1/2

"
Black-Oxide Steel
-50° to 225°
0000000
00000
M6

1
26mm
65mm
45mm
26mm
Black-Oxide Steel
-50° to 225°
0000000
0000

Black Zinc

1/4

"-20

__
1"
2

9/16

"
1

3/4

"
1"
Black-Oxide Steel
__
0000000
00000

5/16

"-18

__
1

1/8

"
3

1/16

"
2

3/16

"
1

1/8

"
Black-Oxide Steel
__
0000000
00000

3/8

"-16

__
1

1/8

"
3

1/16

"
2

3/16

"
1

1/8

"
Black-Oxide Steel
__
0000000
00000

1/2

"-13

__
1

1/2

"
4

1/4

"
2

15/16

"
1

1/2

"
Black-Oxide Steel
__
0000000
00000
M6

1
26mm
65mm
45mm
26mm
Black-Oxide Steel
__
0000000
00000