Easy-to-Machine

Thermally Stable Kovar Nickel Alloy Sheets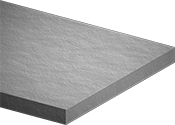 Yield

Strength:

50,

000 psi

Hardness:

Rockwell B80

(Medium)

Temper

Rating:

Softened

(Annealed)

Specifications

Met:

ASTM F15
This nickel-iron-cobalt alloy expands at the same rate as glass when heated. It offers better machinability than Invar 36 and is often used anywhere a dependable glass-to metal seal is required, such as in diodes and microwave tubes.
For technical drawings and 3-D models, click on a part number.

Certificates with a traceable lot number are available for these products. Download certificates from ORDER HISTORY after your order ships.
Thick.

Thick.

Tolerance

4"




× 4"

6"




× 6"

12"




× 12"

0.01"
-0.001" to 0.001"
0000000
0.02"
-0.001" to 0.001"
0000000
0.04"
-0.001" to 0.001"
0000000
0.06"
-0.002" to 0.002"
0000000
0.09"
-0.003" to 0.003"
0000000
0.125"
-0.003" to 0.003"
0000000