Create-Your-Own

Workholders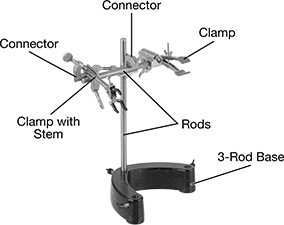 Build a custom clamping system for holding lightweight objects such as beakers and laboratory equipment. First choose a base, and then add rods, connectors, and clamps.
Stainless steel components provide excellent corrosion resistance.
Rod-to-rod connector holds two rods at a 90° angle.
Clamps require a connector to attach to rods.
Spring Clamp Workholders
Secure small parts in spring clamps to keep hands free for soldering, gluing, and assembly. The workholder's arms are mounted to a base and adjust for positioning work at almost any angle.
Workholders that cannot be sold to Canada are restricted by local energy efficiency requirements.
Glassware Tongs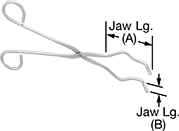 Curved and Flat Jaws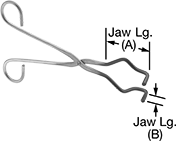 PTFE-Coated
Curved and Flat Jaws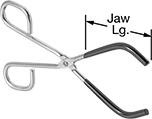 Plastic-Coated
Curved Jaws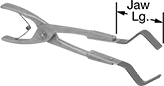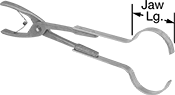 Curved Jaws
Get a firm grip on beakers and other containers in the curved jaws. You can also use the tips of these tongs to pick up small objects.
Tongs with coated jaws won't scratch or nick components. Choose tongs with PTFE-coated jaws to prevent material from sticking to them.
Overall


Lg.

Jaw


Lg.

Jaw


Lg.

(A)

Jaw


Lg.

(B)

Max.

Jaw
Capacity
For OD
Jaw
Texture
Material
Grip
Style
Each

Curved and Flat Jaws

9"
__
3"
1"
5"
1"-5"
Smooth
Stainless Steel
Plain
0000000
000000
18"
__
3"
1"
10"
1

3/4

"-10"
Smooth
Stainless Steel
Plain
0000000
00000

PTFE

Plastic-Coated

Curved and Flat Jaws

9"
__
3"
1"
5"
1"-5"
Smooth
Stainless Steel
Plain
0000000
00000
18"
__
3"
1"
10"
1

3/4

"-10"
Smooth
Stainless Steel
Plain
0000000
00000

Plastic-Coated

Curved Jaws

9

1/2

"
4

1/2

"
__
__
7"
1

1/2

"-7"
Smooth
Steel
Plain
0000000
00000

Vinyl

Plastic-Coated

Curved Jaws

13

1/4

"
2

1/2

"
__
__
3"
1

3/4

"-3"
Smooth
Aluminum
Plain
000000
00000

Curved Jaws

16"
3"
__
__
3"
3"
Smooth
Aluminum
Plain
000000
00000