Antislip Step Covers

Weld these covers to the rungs of your wall and tank ladders for excellent slip resistance. Covers fit square and round rungs. Can be cut with a hand grinder or miter saw using a masonry blade.
Abrasive Antislip Tape with Conformable Backing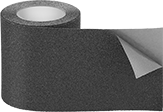 Roll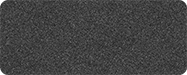 Rectangle
Stick this ultra-flexible tape to ladder rungs, diamond tread plates, and other uneven and irregular surfaces with sharp corners. After installation, wait one hour before walking on this tape.
Wd.

Lg.,




ft.

Thick.

Adhesive
Type
Time Required
Before

Use,

hrs.

Temp.




Range,

°F

For Use
Outdoors
Each

Roll

Aluminum

2"
15

3/64

"
Acrylic
1
40° to 175°
Yes
0000000
000000
4"
15

3/64

"
Acrylic
1
40° to 175°
Yes
0000000
00000
6"
15

3/64

"
Acrylic
1
40° to 175°
Yes
0000000
00000
12"
15

3/64

"
Acrylic
1
40° to 175°
Yes
0000000
000000

Rectangle

Aluminum

6"
2

3/64

"
Acrylic
1
40° to 175°
Yes
0000000
0000