Retainer-Mount

Coating for Conveyor Pulleys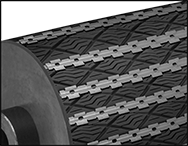 Conveyor Pulley
with Retainer-Mount
Coating
Slide these coating strips into metal retainers (sold separately) that you attach to your pulley—they add friction that helps conveyor belts stay on pulleys and are replaceable when they're worn. Unlike traditional coatings, you don't need to detach the pulley from your system to apply them. Each strip consists of rubber bonded to a metal backing plate to prevent it from separating from the pulley surface, which can happen to adhesive-mount coatings. When the strips wear out, pull them out and slide in new ones. They're also known as lagging.
These rubber strips protect pulleys from wear and damage, helping them last longer. They have a diamond tread that sheds sand, gravel, grain, and other debris to prevent material buildup and maintain traction on the belt. Use them in dry and dirty environments.
Bolt or weld retainers onto the surface of your pulley. Single-sided retainers only have lock-down tabs on one side, so use them to mount the first and last strips. Double-sided retainers have lock-down tabs on both sides. Use them on the majority of your pulley's diameter.
To Order: Check the chart or follow the 4 steps below to determine how many strips and retainers you'll need to cover your pulley.
1. Divide the pulley's diameter (in inches) by 2.
2. Multiply the answer by the pulley's width, and then add 6.
3. Divide the answer from step 2 by 72 and round up. This is the number of strips and double-sided retainers you'll need.
4. Take the answer from step 3 and divide it by 4, then round up. This is the number of single-sided retainers you'll need.
Straight Profile
For Pulley
Diameter
Length
Width
Thickness
Hardness
Hardness
Rating
Temperature


Range,

°F

Each

SBR Rubber

6"
72"
5

1/2

"

9/16

"
Durometer 60A
Soft
-50° to 225°
0000000
0000000
8"
72"
5

1/2

"

9/16

"
Durometer 60A
Soft
-50° to 225°
0000000
000000
10"
72"
5

1/2

"

9/16

"
Durometer 60A
Soft
-50° to 225°
0000000
000000
12"
72"
5

1/2

"

9/16

"
Durometer 60A
Soft
-50° to 225°
0000000
000000
14"
72"
5

1/2

"

9/16

"
Durometer 60A
Soft
-50° to 225°
0000000
000000
16"
72"
5

1/2

"

9/16

"
Durometer 60A
Soft
-50° to 225°
0000000
000000