Rakes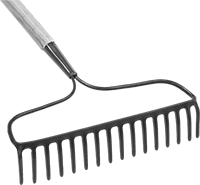 A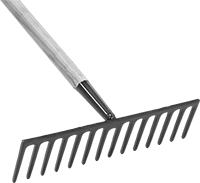 B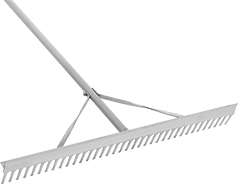 C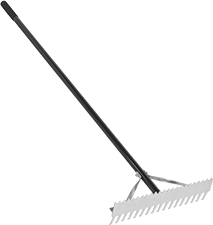 D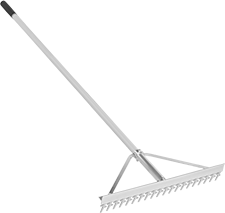 E
F

Straight Handle
Style D rakes have short tines on one side for breaking apart hard packed soil. The other side has long tines for general purpose raking.
Style E rakes have a screening design, making them good for removing stones and debris from soil.
Style F rakes have angled tines for leveling.
Rakes with reflective tape stand out for safety and visibility.
Lg.

Wd.

Style

No.


of
Material

Ht.

Material
Style

Lg.

Features
Each
A
56"
14"
Straight
14
Steel
2

3/4

"
Wood
Straight
48"
__
0000000
000000
A
66"
16"
Straight
16
Steel
2

3/4

"
Fiberglass
Straight
60"
__
0000000
00000
A
66"
16"
Straight
16
Steel
2

3/4

"
Fiberglass
Straight
60"
Reflective Tape
0000000
00000
A
66"
16"
Straight
16
Steel
3"
Wood
Straight
60"
__
000000
00000
B
61"
16

3/4

"
Straight
14
Steel
4

1/2

"
Wood
Straight
60"
__
000000
00000
B
66"
16"
Straight
16
Steel
2

3/4

"
Fiberglass
Straight
64"
__
0000000
00000
B
67"
17"
Straight
16
Steel
2

1/2

"
Aluminum
Straight
66"
__
0000000
00000
C
67"
24"
Straight
24
Aluminum
4

1/4

"
Aluminum
Straight
66"
__
000000
00000
C
67"
36"
Straight
36
Aluminum
4

1/4

"
Aluminum
Straight
66"
__
000000
000000
C
67"
48"
Straight
48
Aluminum
4

1/4

"
Aluminum
Straight
66"
__
000000
000000
D
67"
22"
Straight
17
Aluminum
2

1/2

"
Aluminum
Straight
60"
__
0000000
00000
E
67"
24"
Screening
24
Aluminum
2

1/2

"
Fiberglass
Straight
66"
__
0000000
000000
E
67"
36"
Screening
36
Aluminum
2

1/2

"
Fiberglass
Straight
66"
__
0000000
000000
E
67"
48"
Screening
48
Aluminum
2

1/2

"
Fiberglass
Straight
66"
__
0000000
000000
F
67"
24"
Angled
24
Aluminum
2

1/2

"
Aluminum
Straight
66"
__
0000000
000000
F
67"
36"
Angled
36
Aluminum
2

1/2

"
Aluminum
Straight
66"
__
0000000
000000
F
67"
48"
Angled
48
Aluminum
2

1/2

"
Aluminum
Straight
66"
__
0000000
000000