Chain Pull Cords

1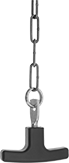 2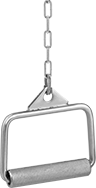 3
These chain pulls are more durable than rope pulls. Use them to operate doors, vents, skylights, and overhead equipment.
Sash chain is good for light duty applications, such as small doors, vents, and skylights.
Straight link chain is load rated for large doors, vents, and skylights.
Zinc-plated steel pull cords have some corrosion resistance.
304 stainless steel pull cords have excellent corrosion resistance, making them the best choice for harsh environments. They also have good chemical resistance.
For technical drawings and 3-D models, click on a part number.
Lg.

Wd.

Sash
Chain
Trade Size

Cap.,




lbs.

Material

Dia.

Ht.

Wd.

Dp.

Color

1 ft.

2 ft.

5 ft.

8 ft.

0.3"
0.15"
8
Not Rated
Steel
1"
__
__
__
__
000000
0.4"
0.17"
40
Not Rated
Steel
1"
__
__
__
__
000000

304 Stainless Steel

0.26"
0.12"
8
Not Rated
Stainless Steel
1"
__
__
__
__
000000
0.34"
0.15"
35
Not Rated
Stainless Steel
1"
__
__
__
__
000000

Style

2—

Straight Link Chain

1.11"
0.21"
__
55
Plastic
__
1

5/8

"
3

1/8

"

3/4

"
Black
000000

Style

3—

Straight Link Chain

1.25"
0.32"
__
400
Steel
__
5

1/2

"
5

1/2

"
1

1/2

"
__
0000000