Portable Workstations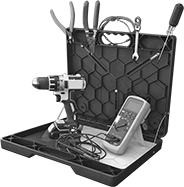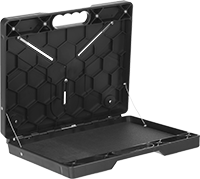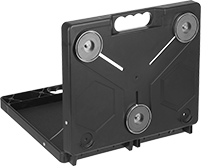 Back View with Magnets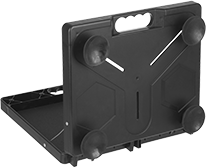 Back View with Suction Cups
Mount these workstations on a flat vertical surface to create a steady horizontal surface for writing, typing, or tinkering. They work as a case when closed, with a 2 3/4"-deep interior for carrying a laptop, small tools, and other supplies. When you need a workstation, mount them to a metal surface such as an electrical cabinet with the included magnets, or a nonmetal surface such as a wall with the included suction cups. The magnets and suction cups screw into either exterior side of workstations; leave magnets on one side and suction cups on the other to be ready for quick use. On the interior, workstations have a movable rubber work surface, magnetic strips across the top for holding tools, and wire rope cables to keep workstations open at a 90° angle.
For Minimum
Material
Thickness

Wd.

Dp.

Ht.

Wd.

Dp.

Ht.

Cap.,




lbs.

Mounting
Location
Mount
Type
Mounting
Hardware
Included
Assembled
or
Unassembled
Features
Includes
Color
Each

ABS Plastic

1/16

"
17"
2

3/4

"
14"
16

3/4

"

3/4

"
11

3/4

"
40
Bench Top, Wall
Magnet, Suction Cup
Yes
Assembled
Magnetic Strips, Wire Rope Cables
Rubber Pad
Black
0000000
0000000
Laptop Stands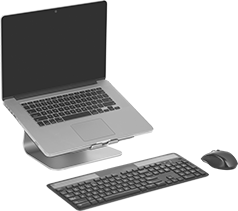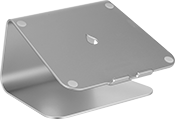 Elevate your laptop screen to eye level with these stands to improve posture and reduce back and neck strain. Made of a single piece of aluminum, they provide a stable surface for typing. Run charging cables and other cords through the cable cutout to keep them organized and reduce clutter. For the most ergonomic work experience, use these laptop stands with a separate keyboard and mouse.
360° swivel stands rotate, so you can turn your laptop to face any direction without lifting the stand.