Laser Squares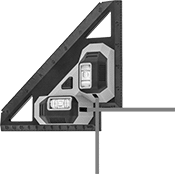 Lay out machine tables and work stations at precise right angles. This laser generates two red lines that form a 90° angle. The laser lines are best viewed indoors.
Accuracy
Range
Line
Size
Laser
Class

Lg.

Wd.

Ht.

Horizontal
Vertical
Sensitivity
Batteries
Included
Features
Each
±

1/4

" @ 20 ft.
23 ft.
0.1" @ 20 ft.
Class II
6

1/2

"
6

1/2

"
2"
1
1
0.004 in./ft., 1 min./0.1"
Yes
Built-In Protractor
0000000
000000
Digital Angle Indicators with Laser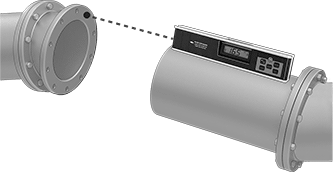 Align guide rails or lay pipe at specific angles from a flat surface. The laser light is red and is best viewed indoors. The display shows the precise angle of the beam and rotates for overhead measurements. The audible level indicator tells you when the tool is level and plumb.
Angle
Measuring
Range
Accuracy

No.

of
Measuring
Quadrants
Quadrant Angle
Measuring
Range
Accuracy
Range
Dot
Size

Lg.

Wd.

Ht.

Mount
Type
Batteries
Included
Features
Each
0°-360°
±0.2°
4
0°-90°
±

1/8

" @ 50 ft.
0-200 ft.

1/4

" @ 50 ft.
10

1/2

"
1

1/4

"
2

1/4

"
Screw On, Magnetic Base
Yes
Audible Level Indicator, Backlit Display
0000000
0000000
Proximity-Sensor

Shaft Alignment Kits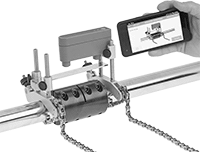 Align rotary shafts with the help of a mobile app. These sensor kits are more accurate than straightedges and easier to use than dial indicators. Properly aligning shafts reduces vibration and protects couplings, bearings, and other parts from wear and damage.
Use the included chain clamps to mount these sensors above your coupling, where they detect the degree of misalignment between the shafts. The app shows live animations to give step-by-step instructions for repositioning your equipment. Once the shafts are aligned, the app saves a report documenting the process.
Good for extended use in industrial environments, these sensors last up to 18 hours between charges and are IP54 rated for protection from dust.
For
Shaft


Dia.

Max.


Horizontal
Clearance

Max.


Coupling


Ht.

Accuracy
Operating
System
Compatibility
Includes
Type

Life,




hrs.

Environmental
Rating
Certification
Each

7/8

"-6

1/4

"
7.3"
2.2"
±0.5°
Android 4.4.2 or Later
iOS 9 or Later
One Measuring Unit with Two Proximity Sensors
Three Reference Bars (4", 6", and 8" Lg.)
Two Chain Clamps
One Tape Measure
One USB Charging Cable
Rechargeable
18
IP54

Calibration Certificate
0000000
000000000