Laser Distance Measurers
Use a laser to determine the distance to an object up to 700 yards away. A target plate (sold separately) is required for measuring distances over 150 ft., and uneven, transparent, and mirrored surfaces.
Styles A-D show distance on a digital display.
Style D have a touch screen with up to 4X magnification. Those with a built-in camera display the width of objects in the distance. They cannot be sold to the listed areas due to energy efficiency requirements.
Style E displays distance in the viewfinder.

A

B

C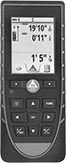 D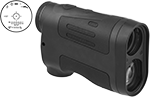 E
Max.


Distance

No.

of
Values
Stored
Accuracy
Range
Includes
Functions
Batteries
Included
Cannot
Be
Sold To
Each

Pkg.




Qty.

Pkg.

A
100 ft.
__
-0.125" to +0.125"
__
__
Yes
__
00000000
000000
4
00000000
00000
B
330 ft.
10
-0.06" to +0.06"
Illuminated Display
Adds, Subtracts, Calculates Square Feet, Calculates Cubic Feet, Bluetooth
Yes
__
00000000
000000
4
00000000
0000
C
500 ft.
20
-0.04" to +0.04"
Illuminated Display
Adds, Subtracts, Calculates Square Feet, Calculates Cubic Feet, Bluetooth
Yes
__
00000000
000000
4
00000000
0000

Feet/Meters/Inches/Millimeters/Yards

D
650 ft.
30
-0.06" to +0.06"
Built-in Camera, Color Touch Screen, Illuminated Display, USB Cable
Adds, Subtracts, Calculates Square Feet, Calculates Cubic Feet, Bluetooth
Yes
CA, OR
00000000
000000
4
00000000
0000
D
650 ft.
30
-0.06" to +0.06"
Color Touch Screen, Illuminated Display
Adds, Subtracts, Calculates Square Feet, Calculates Cubic Feet, Bluetooth
Yes
__
00000000
000000
4
00000000
0000
E
700 yd.
__
-1yd. to +1yd.
Viewfinder
__
Yes
__
00000000
000000
1
0000000
00000
| | | | |
| --- | --- | --- | --- |
| Target Plates for Styles B-F | 00000000 | Each | 000000 |