Freestanding Sinks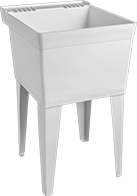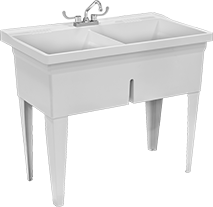 Style

No.


of
Bowls

Wd.

Dp.

Ht.

Wd.

Dp.

Ht.

Drain
Opening


Dia.

No.


of

Dia.

Ctr.-to-Ctr.

For
Use
Outdoors
Features
Includes
Each

Sinks

White Plastic with Steel Legs

A
1
20"
23

7/8

"
33

3/4

"
19

1/2

"
19

5/8

"
13"
1

3/4

"
2
1"
4"
No
Leveling Feet
Drain with Strainer
000000
0000000
B
2
40"
24"
33

3/4

"
18

7/8

"
18

5/8

"
12

1/2

"
1

3/4

"
2
1

1/4

"
4", 8"
No
Leveling Feet
Drain with Strainer
0000000
000000
Style

No.


of
Bowls

Wd.

Dp.

Ht.

Wd.

Dp.

Ht.

Drain
Opening


Dia.

Spout
Type
Pipe
Size

Thread
Type
Flow


Rate,


gpm
For
Use
Outdoors
Features
Includes
Each

Sinks with

Chrome-Plated

Brass Faucet

White Plastic with Steel Legs

A
1
20"
23

7/8

"
40

3/4

"
19

1/2

"
19

5/8

"
13"
1

3/4

"
Swivel

1/2

NPT

2.1
No
Leveling Feet
Drain with Strainer
000000
0000000
B
2
40"
24"
40

3/4

"
18

7/8

"
18

5/8

"
12

1/2

"
1

3/4

"
Swivel

1/2

NPT

2.1
No
Leveling Feet
Drain with Strainer
0000000
000000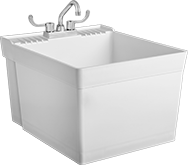 Style

Wd.

Dp.

Ht.

Wd.

Dp.

Ht.

Drain
Opening


Dia.

No.


of

Dia.

Ctr.-to-Ctr.

Mounting
Fasteners
Included
For
Use
Outdoors
Includes
Each

Sinks

White Plastic

B
20"
23

7/8

"
14

3/8

"
19

1/2

"
19

5/8

"
13"
1

3/4

"
2
1"
4"
Yes
No
Drain with Strainer, One Mounting Bracket
000000
0000000
Style

Wd.

Dp.

Ht.

Wd.

Dp.

Ht.

Drain
Opening


Dia.

Faucet
Material
Spout
Type
Pipe
Size

Thread
Type
Flow


Rate,


gpm
Mounting
Fasteners
Included
For
Use
Outdoors
Includes
Each

Sinks with

Chrome-Plated

Faucet

White Plastic

B
20"
23

7/8

"
21

3/8

"
19

1/2

"
19

5/8

"
13"
1

3/4

"
Brass
Swivel

1/2

NPT

2.1
Yes
No
Drain with Strainer, One Mounting Bracket
000000
0000000
Countertop Sinks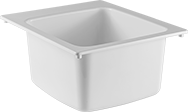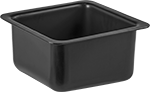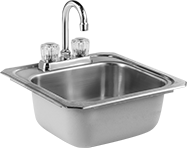 C (Sink Shown with Faucet)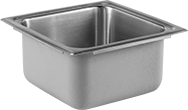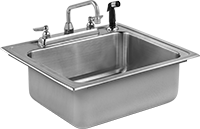 E (Sink
Shown with Faucet and
Sprayer)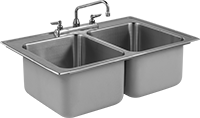 F (Sink Shown with Faucet)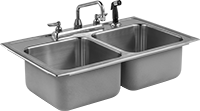 G (Sink
Shown with Faucet and
Sprayer)
Fiberglass sinks are impact and stain resistant. Plastic sinks are more chemical resistant than fiberglass.
Stainless steel sinks offer the best corrosion and chemical resistance. They're undercoated to prevent condensation.
Style A have a back ledge that can be drilled for a faucet.
To install Style C, apply sealant (not included) to rim and drop into your counter.
Use optional installation clips to install Style D sinks in countertops that are 3/4" or thicker, or countertops made of material that cannot be nailed into. 13" × 13" and 15" × 15" sinks require eight installation clips, while larger sinks require 12.
Style

Wd.

Dp.

Ht.

Wd.

Dp.

Ht.

Wd.

Dp.

Drain
Opening


Dia.

No.


of

Dia.

Ctr.-to-Ctr.

Mounting
Hardware
Included
For
Use
Outdoors
Includes
Each

Sinks

White Fiberglass

A
17"
20"
10"
14"
15"
9

1/2

"
15

1/2

"
18

1/2

"
3

1/2

"
0
__
__
Yes
No
__
0000000
000000
A
25"
22"
13

3/4

"
21

3/8

"
15

3/4

"
13

1/4

"
24"
21"
1

1/2

"
0
__
__
Yes
No
Drain with Strainer, Stopper
0000000
000000

Black Plastic

B
14

1/2

"
14

1/2

"
8

1/4

"
12"
12"
8"
12

1/2

"
12

1/2

"
1

1/2

"
0
__
__
__
Yes
Drain with Strainer, Stopper, Tailpiece
0000000
000000
B
17

1/2

"
27

1/2

"
10

1/4

"
15"
25"
10"
15

1/2

"
25

1/2

"
1

1/2

"
0
__
__
__
Yes
Drain with Strainer, Stopper, Tailpiece
0000000
000000
B
18

1/2

"
18

1/2

"
8

1/4

"
16"
16"
8"
16

1/2

"
16

1/2

"
1

1/2

"
0
__
__
__
Yes
Drain with Strainer, Stopper, Tailpiece
0000000
000000
B
20

1/2

"
23

1/2

"
10

1/4

"
18"
21"
10"
18

1/2

"
21

1/2

"
1

1/2

"
0
__
__
__
Yes
Drain with Strainer, Stopper, Tailpiece
0000000
000000
B
20

1/2

"
25

1/2

"
12

1/4

"
18"
23"
12"
18

1/2

"
23

1/2

"
1

1/2

"
0
__
__
__
Yes
Drain with Strainer, Stopper, Tailpiece
0000000
000000

304 Stainless Steel

C
15"
15"
6

1/8

"
12"
10"
6"
14

3/8

"
14

3/8

"
2"
2
1

1/4

"
4"
Yes
No
__
0000000
000000
D
13"
13"
7

11/16

"
10"
10"
7

1/2

"
12

1/4

"
12

1/4

"
3

1/2

"
0
__
__
Yes
No
__
00000000
000000
D
15"
15"
7

11/16

"
12"
12"
7

1/2

"
14

1/4

"
14

1/4

"
3

1/2

"
0
__
__
Yes
No
__
0000000
000000
D
17"
19"
7

11/16

"
14"
16"
7

1/2

"
16

1/4

"
18

1/4

"
3

1/2

"
0
__
__
Yes
No
__
00000000
000000
D
25"
19"
10

11/16

"
22"
16"
10

1/2

"
24

1/2

"
18

1/4

"
3

1/2

"
0
__
__
Yes
No
__
00000000
000000
E
17"
16"
7

5/8

"
14"
10"
7

1/2

"
16

3/8

"
15

3/8

"
3

1/2

"
3
1

1/2

"
4"
Yes
No
__
00000000
000000
E
17"
22"
10

1/8

"
13

1/2

"
16"
10"
16

3/8

"
21

3/8

"
3

1/2

"
3
1

1/2

"
4"
Yes
No
__
0000000
000000
E
19"
18"
7

5/8

"
16"
11

1/2

"
7

1/2

"
18

3/8

"
17

3/8

"
3

1/2

"
3
1

1/2

"
4"
Yes
No
__
0000000
000000
E
19

1/2

"
19"
10

1/8

"
16"
13

1/2

"
10"
18

7/8

"
18

3/8

"
3

1/2

"
3
1

1/2

"
4"
Yes
No
__
0000000
000000
E
19

1/2

"
22"
7

5/8

"
16"
16"
7

1/2

"
18

7/8

"
21

3/8

"
3

1/2

"
3
1

1/2

"
4"
Yes
No
__
0000000
000000
E
22"
19

1/2

"
7

5/8

"
18"
14"
7

1/2

"
21

3/8

"
18

7/8

"
3

1/2

"
4
1

1/2

"
4"
Yes
No
__
0000000
000000
E
25"
22"
10

1/8

"
21"
15

3/4

"
10"
24

3/8

"
21

3/8

"
3

1/2

"
3
1

1/2

"
4"
Yes
No
__
0000000
000000
E
25"
22"
12

1/8

"
21"
15

3/4

"
12"
24

3/8

"
21

3/8

"
3

1/2

"
3
1

1/2

"
4"
Yes
No
__
0000000
000000
E
33"
22"
10

1/8

"
28"
16"
10"
32

3/8

"
21

3/8

"
3

1/2

"
3
1

1/2

"
4"
Yes
No
__
00000000
000000
F
33"
22"
10

1/8

"
13

1/2

"
16"
10"
32

3/8

"
21

3/8

"
3

1/2

"
3
1

1/2

"
4"
Yes
No
__
0000000
000000
G
29"
18"
7

5/8

"
12"
12"
7

1/2

"
28

3/8

"
17

3/8

"
3

1/2

"
4
1

1/2

"
4"
Yes
No
__
0000000
000000
Style

Wd.

Dp.

Ht.

Wd.

Dp.

Ht.

Wd.

Dp.

Drain
Opening


Dia.

Spout
Type
Pipe
Size

Thread
Type
Flow


Rate,


gpm
Mounting
Hardware
Included
For
Use
Outdoors
Includes
Each

Sinks with

Chrome-Plated

Brass Faucet

304 Stainless Steel

C
15"
15"
6

1/8

"
12"
10"
6"
14

3/8

"
14

3/8

"
2"
Swivel

1/2

NPS
2.2
Yes
No
Drain with Strainer, Tailpiece
0000000
0000000
E
17"
16"
7

5/8

"
14"
10"
7

1/2

"
16

3/8

"
15

3/8

"
3

1/2

"
Swivel

1/2

NPT

1.2
Yes
No
__
000000
000000
E
19"
18"
7

5/8

"
16"
11

1/2

"
7

1/2

"
18

3/8

"
17

3/8

"
3

1/2

"
Swivel

1/2

NPT

1.2
Yes
No
__
000000
000000
E
19

1/2

"
19"
10

1/8

"
16"
13

1/2

"
10"
18

7/8

"
18

3/8

"
3

1/2

"
Swivel

1/2

NPT

1.2
Yes
No
__
000000
000000
E
22"
19

1/2

"
7

5/8

"
18"
14"
7

1/2

"
21

3/8

"
18

7/8

"
3

1/2

"
Swivel

1/2

NPT

1.2
Yes
No
Extendable Faucet Sprayer
0000000
000000
E
25"
22"
10

1/8

"
21"
15

3/4

"
10"
24

3/8

"
21

3/8

"
3

1/2

"
Swivel

1/2

NPT

1.2
Yes
No
__
000000
000000
F
33"
22"
10

1/8

"
13

1/2

"
16"
10"
32

3/8

"
21

3/8

"
3

1/2

"
Swivel

1/2

NPT

1.2
Yes
No
__
0000000
00000000
G
29"
18"
7

5/8

"
12"
12"
7

1/2

"
28

3/8

"
17

3/8

"
3

1/2

"
Swivel

1/2

NPT

1.2
Yes
No
Extendable Faucet Sprayer
0000000
000000