Mirrors
Tilted mirrors help you comply with ADA when properly installed. Adjustable tilt can be angled downward and tilt up to 6" from the wall. Fixed tilt are 4" thick at the top and slope to 1" thick at the bottom.
With Frame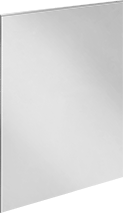 Frameless
These plastic and metal mirrors are more damage-resistant than glass.
To mount acrylic and polycarbonate mirrors, use a fine-point drill or sharp blade to create mounting holes. Apply masking tape to the entry point to minimize delamination.
Polycarbonate mirrors are shatter resistant.
Aluminum mirrors are almost as reflective as glass.
Stainless steel mirrors are the most durable mirrors we offer.
Ht.

Wd.

Thick.

Frame Material
Features
Mount Type
Hardware
Included

No.

of
Holes
Hole


Dia.

Each

With Frame

Acrylic Plastic Mirror

12"
12"

1/4

"
Aluminum
Scratch-Resistant Coating
Screw In
Yes
__
__
0000000
0000000
24"
18"

1/4

"
Aluminum
Scratch-Resistant Coating
Screw In
Yes
__
__
0000000
000000
36"
24"

1/4

"
Aluminum
Scratch-Resistant Coating
Screw In
Yes
__
__
0000000
000000

Aluminum Mirror

24"
18"

1/2

"
Stainless Steel
Scratch-Resistant Coating
Screw In
No
4

3/16

"
0000000
000000
30"
24"

1/2

"
Stainless Steel
Scratch-Resistant Coating
Screw In
No
4

3/16

"
0000000
000000
36"
24"

1/2

"
Stainless Steel
Scratch-Resistant Coating
Screw In
No
4

3/16

"
0000000
000000

Stainless Steel Mirror

18"
14"

1/4

"
Stainless Steel
__
Screw In
No
4

9/32

"
0000000
000000
20"
16"

1/4

"
Stainless Steel
__
Screw In
No
4

9/32

"
0000000
000000
24"
18"

1/4

"
Stainless Steel
__
Screw In
No
4

9/32

"
0000000
000000
30"
24"

1/4

"
Stainless Steel
__
Screw In
No
4

9/32

"
0000000
000000
36"
24"

1/4

"
Stainless Steel
__
Screw In
No
4

9/32

"
0000000
000000
60"
24"

1/4

"
Stainless Steel
__
Screw In
No
6

9/32

"
0000000
000000

Frameless

Acrylic Plastic Mirror

12"
12"

1/8

"
__
__
Adhesive Back
__
__
__
0000000
00000
12"
12"

1/8

"
__
__
Screw In
No
__
__
0000000
00000
12"
12"

1/4

"
__
__
Screw In
No
__
__
0000000
00000
18"
12"

1/8

"
__
__
Screw In
No
__
__
0000000
00000
18"
12"

1/4

"
__
__
Screw In
No
__
__
0000000
00000
24"
18"

1/8

"
__
__
Adhesive Back
__
__
__
0000000
00000
24"
18"

1/8

"
__
__
Screw In
No
__
__
0000000
00000
24"
18"

1/4

"
__
__
Screw In
No
__
__
0000000
00000
30"
24"

1/8

"
__
__
Screw In
No
__
__
0000000
00000
30"
24"

1/4

"
__
__
Screw In
No
__
__
0000000
000000
36"
24"

1/8

"
__
__
Adhesive Back
__
__
__
0000000
000000
36"
24"

1/8

"
__
__
Screw In
No
__
__
0000000
00000
36"
24"

1/4

"
__
__
Screw In
No
__
__
0000000
000000
48"
36"

1/8

"
__
__
Screw In
No
__
__
0000000
000000
48"
36"

1/4

"
__
__
Screw In
No
__
__
0000000
000000

Polycarbonate Plastic Mirror

12"
12"

1/8

"
__
__
Screw In
No
__
__
0000000
00000
12"
12"

1/4

"
__
__
Screw In
No
__
__
0000000
00000
18"
12"

1/8

"
__
__
Screw In
No
__
__
0000000
00000
18"
12"

1/4

"
__
__
Screw In
No
__
__
0000000
00000
24"
18"

1/8

"
__
__
Screw In
No
__
__
0000000
000000
24"
18"

1/4

"
__
__
Screw In
No
__
__
0000000
000000
30"
24"

1/8

"
__
__
Screw In
No
__
__
0000000
000000
30"
24"

1/4

"
__
__
Screw In
No
__
__
0000000
000000
36"
24"

1/8

"
__
__
Screw In
No
__
__
0000000
000000
36"
24"

1/4

"
__
__
Screw In
No
__
__
0000000
000000
48"
36"

1/8

"
__
__
Screw In
No
__
__
0000000
000000
48"
36"

1/4

"
__
__
Screw In
No
__
__
0000000
000000

Stainless Steel Mirror

18"
14"

3/8

"
__
__
Screw In
No
4

7/32

"
0000000
000000
20"
16"

3/8

"
__
__
Screw In
No
4

7/32

"
0000000
000000
24"
18"

3/8

"
__
__
Screw In
No
4

7/32

"
0000000
000000
30"
24"

3/8

"
__
__
Screw In
No
4

7/32

"
0000000
000000
36"
24"

3/8

"
__
__
Screw In
No
4

7/32

"
0000000
000000
60"
24"

3/8

"
__
__
Screw In
No
6

7/32

"
0000000
000000