Left-Hand

Threaded-Stud

Knobs

1

2

3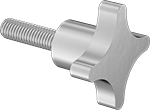 4
Knobs have left-hand threads; they're used in applications where counterclockwise motion can loosen common right-hand threads. Mount them into a threaded hole to position, tighten, and hold fixtures, equipment, and machinery.
Steel knobs have a black-oxide finish for mild rust resistance.
Stainless steel knobs have excellent corrosion resistance, making them the best choice for harsh environments. They also have good chemical resistance.
Plastic knobs are a lightweight alternative to metal. They resist oil, grease, and solvents.
Aluminum knobs have mild corrosion resistance, are lightweight, and are nonmagnetic.
For technical drawings and 3-D models, click on a part number.
Thread
Size

Stud


Lg.

Dia.

Ht.

Dia.

Ht.

Stud Material
Temperature


Range,

°F

1-9

10-Up

1/4

"-20

1

3/4

"
1"

1/4

"

5/8

"

1/2

"
Steel
__
0000000
00000
00000

3/8

"-16

1

3/4

"
1

1/2

"

5/16

"

3/4

"

11/16

"
Steel
__
0000000
00000
00000

303 Stainless Steel

1/4

"-20

1

3/4

"
1"

1/4

"

5/8

"

1/2

"
Stainless Steel
__
0000000
00000
00000

5/16

"-18

1

3/4

"
1"

1/4

"

5/8

"

1/2

"
Stainless Steel
__
0000000
00000
00000

3/8

"-16

1

3/4

"
1

1/2

"

5/16

"

3/4

"

11/16

"
Stainless Steel
__
0000000
00000
00000

Black Phenolic Plastic

1/4

"-20

9/16

"

7/8

"

3/8

"

5/8

"

1/8

"
Steel
-30° to 400°
0000000
0000
0000

1/4

"-20

9/16

"
1

1/2

"

3/8

"

11/16

"

3/8

"
Steel
-30° to 400°
0000000
0000
0000

1/4

"-20

3/4

"
1

1/4

"

3/8

"

5/8

"

3/8

"
Steel
-30° to 400°
0000000
0000
0000

Black Phenolic Plastic

1/4

"-20

1"
1

1/2

"

1/2

"

5/8

"

1/2

"
Steel
-30° to 400°
0000000
0000
0000

3/8

"-16

1"
2"

1/2

"

7/8

"

1/2

"
Steel
-30° to 400°
0000000
00000
0000

Aluminum

1/4

"-20

1

3/4

"
1

1/2

"

3/8

"

5/8

"

1/2

"
Steel
__
0000000
00000
00000

5/16

"-18

1

3/4

"
2"

3/8

"

3/4

"

5/8

"
Steel
__
0000000
00000
00000

3/8

"-16

1

3/4

"
2"

3/8

"

3/4

"

5/8

"
Steel
__
0000000
00000
00000

1/2

"-13

1

3/4

"
2

1/2

"

1/2

"
1

1/8

"
1"
Steel
__
0000000
00000
00000