Screws for Carbide Insert Holders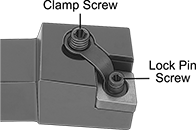 When it's time to replace the screws in a carbide insert holder, use the reference number on your holder to find the right size.
Clamp screws hold insert clamps at the proper height for tooling.
For technical drawings and 3-D models, click on a part number.
Clamp Screws—Threaded on Both Ends

Lg.

Reference


No.

Right-Hand


Thread

Lg.

Left-Hand


Thread

Lg.

Drive Style
Drive
Size
Material

Min.

Rockwell
Hardness
Thread Fit

Each

10-32

0.59"
CS-205
0.19"
0.19"
Hex × Hex

3/32

"
Steel
C42
Class 3A

000000000
00000

3/4

"
CS-220
0.25"
0.25"
Hex × Hex

3/32

"
Steel
C42
Class 3A

000000000
0000
0.84"
CS-228
0.31"
0.31"
Hex × Hex

3/32

"
Steel
C42
Class 3A

000000000
0000

7/8

"
CS-230
0.5"
0.25"
Hex × Hex

3/32

"
Steel
C42
Class 3A

000000000
0000

1/4"-28

0.69"
CS-306
0.28"
0.28"
Hex × Hex

1/8

"
Steel
C42
Class 3A

000000000
0000
0.81"
CS-320
0.28"
0.28"
Hex × Hex

1/8

"
Steel
C42
Class 3A

000000000
0000
0.81"
CS-321
0.28"
0.28"
Hex × Hex

3/32

"
Steel
C42
Class 3A

000000000
0000
1"
CS-330
0.37"
0.37"
Hex × Hex

1/8

"
Steel
C42
Class 3A

000000000
0000
1.16"
CS-335
0.45"
0.45"
Hex × Hex

1/8

"
Steel
C42
Class 3A

000000000
0000

1/4"-32

0.564"
CS-304
0.221"
0.221"
Hex

1/8

"
Steel
C42
Class 3A

000000000
0000

5/16"-24

1"
CS-410
0.25"
0.5"
Hex × Hex

5/32

"
Steel
C42
Class 3A

000000000
0000
1.12"
CS-420
0.41"
0.47"
Hex × Hex

5/32

"
Steel
C42
Class 3A

000000000
0000
1.156"
CS-425
0.406"
0.5"
Hex × Hex

5/32

"
Steel
C42
Class 3A

000000000
0000
1

1/4

"
CS-430
0.5"
0.5"
Hex × Hex

5/32

"
Steel
C42
Class 3A

000000000
0000

5/16"-32

1

1/4

"
CS-416
0.375"
0.375"
Hex

5/32

"
Steel
C42
Class 3A

000000000
0000