Hand Winches for Wire
Rope—

For Lifting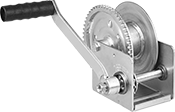 Open Winch with
Left-Side
Handle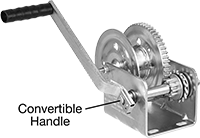 Open Winch with
Right-
or
Left-Side
Handle

Replacement Spring

Replacement Handle
These winches are designed for occasional use. An automatic brake holds the load when the handle is released. To lift, mount winches above the load or use winches with a pulley that's mounted above the load.
For wire rope, see Wire Rope with Hook for Winches.
Winches with a left-side handle are more comfortable for left-handed users to operate, and can be used in spaces where right-side handles can't fit. Winches with a right- or left-side handle are convertible, letting you easily switch between your left and right hand.
Note: Capacity is highest for the first layer of rope (at least five wraps of rope on the winch) and decreases as each additional layer of rope is wound on the winch.
Warning: Never use to lift people or items over people.
For technical drawings and 3-D models, click on a part number.
Min.




Cap.,




lbs.

Max.




Cap.,




lbs.

Fully
Wound


Cap.,

lbs.

For

Max.


Rope


Lg.,

ft.

For
Rope


Dia.

Base


Wd.

Base


Lg.

O'all




Wd.

O'all




Lg.

O'all




Ht.

Handle


Lg.

Material
Gear
Speed
Ratio
Each
Each
Each

Open

50
800
300
68

3/16

"
3

5/8

"
5

1/8

"
6

1/8

"
6

5/8

"
5

1/2

"
7"
Steel
4.4:1
0000000
0000000
0000000
000000
0000000
00000
50
1,200
500
69

7/32

"
3

5/8

"
5

1/8

"
6

1/8

"
7

1/2

"
6

3/4

"
7"
Steel
5.4:1
0000000
000000
0000000
00000
0000000
0000

Right-

or

Left-Side

Handle

75
1,500
700
50

1/4

"
4

3/4

"
5

1/2

"
7

1/8

"
8

1/8

"
6

7/8

"
9"
Steel
5.4:1
0000000
000000
0000000
00000
000000
00