Tapered Lever Handles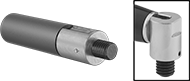 Use these handles as grips on hand wheels and cranks to operate machinery.
Threaded-stud handles mount into a threaded hole.
Threaded-hole handles install on a threaded stud.
Revolving handles have a grip that spins freely, making them easy to turn.
Revolving/folding handles have a grip that turns easily and folds down, so it's out of the way when not in use.
Plastic handles are a lightweight alternative to metal. They all resist oil, grease, and solvents. Nylon has good wear resistance.
For technical drawings and 3-D models, click on a part number.
Style 1—Threaded Stud with Smooth Revolving/Folding Handle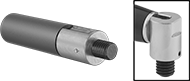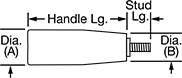 Size

Pitch,


mm
Stud

Lg.

Handle


Lg.

(A)

(B)

Stud
Material

Temp.




Range,

°F

1-9

10-Up

Black Nylon Plastic

3/8

"-16

__

1/2

"
3

3/8

"
0.938"

3/4

"
Steel
-50° to 200°
00000000
000000
000000

1/2

"-13

__

9/16

"
4"
1"
1"
Steel
-50° to 200°
00000000
00000
00000

5/8

"-11

__

13/16

"
4

1/2

"
1

1/8

"

15/16

"
Steel
-50° to 200°
00000000
00000
00000
M8

1.25
13mm
86mm
23mm
19mm
Steel
-50° to 200°
00000000
00000
00000
M10

1.5
14mm
102mm
26mm
21mm
Steel
-50° to 200°
00000000
00000
00000
M12

1.75
20mm
114mm
28mm
23mm
Steel
-50° to 200°
00000000
00000
00000
Style 3—Threaded Hole with Smooth Revolving/Folding Handle