Vehicle Seats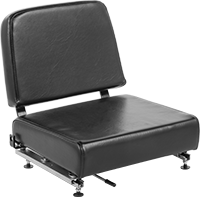 A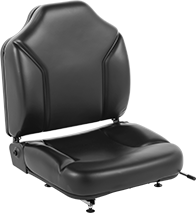 B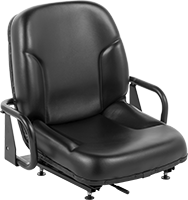 C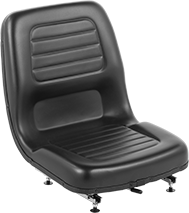 D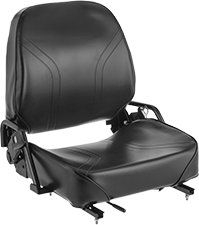 E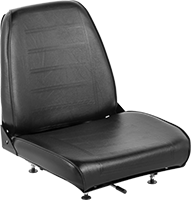 F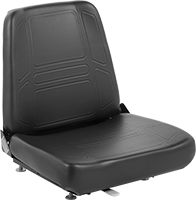 G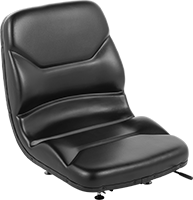 H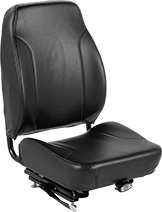 J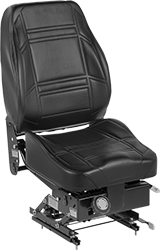 K
Replace worn out seats on equipment such as forklifts. Seats adjust front to back.
Note: Seats are not intended for highway-use vehicles.
Folding backrests can be lowered forward onto the seat.
Add a seat belt (sold separately) to these seats for a safer ride. Style E already includes a retractable seat belt. Seats for mounting bracket seat belt attachment come with a bracket to attach the seat belt. Seats for mounting bar seat belt attachment require a seat belt mounting bar (sold separately). Seats for threaded and unthreaded hole seat belt attachment do not require a mounting bar or bracket.
Styles A-D can be used in any equipment that has the same center-to-center width mounting stud pattern.
Styles E-J have multiple center-to-center width mounting stud patterns for greater mounting flexibility.
Style H is waterproof and can only be used with the standard seat belt.
Style J is designed to isolate and reduce vibration with a trampoline-style sling instead of a hardboard metal pan under the seat.
Style K provides a comfortable ride for operators of large equipment. The suspension flexes to absorb shock and vibration.
For technical drawings and 3-D models, click on a part number.
High-Visibility

Seat Belt Covers

Fluorescent Lime Green

Fluorescent Orange
Encourage seat belt compliance by making it easy to spot when someone is not wearing a seat belt. These seat belt covers have reflective strips and come in fluorescent colors. Wrap them over a seat belt and secure with the hook-and-loop. Covers fit standard-width seat belts.
For
Maximum
Seatbelt

Wd.

Lg.

Material
Closure
Type
Features
Choose
a
Color
Each
2"
18"
Polyester Fabric
Hook and Loop
Reflective Strips
0000000
00000
Seat Belts
Add a seat belt to your vehicle seat for a safer ride.
Standard belts are tightened by pulling the strap.
Retractable belts retract automatically when buckled. Belts with lap and shoulder straps restrain both the lower and upper body during impact. Belts with a switch won't allow a vehicle to operate unless the belt is buckled. They include a standard automotive plug that you can cut off to expose two wire leads.
Wraparound belts, also known as endless belts, wrap completely around the seat. Buckle the belt and pull the strap to tighten. No need for mounting hardware.
Seat belt mounting bars allow equipment seats that do not have a seat belt mounting bracket to accept seat belts.

Standard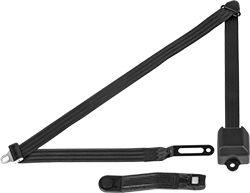 Retractable with Lap and Shoulder Straps
Retractable

Retractable with Switch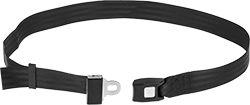 Wraparound
Seat
Belt
Style
Features

Lg.

Wd.

Release
Type
Strap
Location
Mounting
Fasteners
Included
Each
Each
Standard
__
25

1/4

"-55"
2"
Push Button
Lap
Yes
0000000
000000
0000000
000000
Standard
__
44"-74"
2"
Push Button
Lap
Yes
00000000
00000
000000
00
Standard
__
60"-90"
2"
Push Button
Lap
Yes
00000000
00000
000000
00
Retractable
__
144"
2"
Push Button
Lap, Shoulder
Yes
00000000
000000
000000
00
Retractable
__
15

1/2

"-67

1/4

"
2"
Push Button
Lap
Yes
0000000
00000
0000000
00000
Retractable
Switch
15

1/2

"-65"
2"
Push Button
Lap
Yes
0000000
00000
0000000
00000
Wraparound
__
92"
2"
Push Button
Lap
__
000000
00000
000000
00
Wraparound
__
110"
2"
Push Button
Lap
__
00000000
00000
000000
00