Straight Profile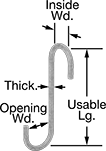 Use these S-hooks for lifting applications.
Straight-profile hooks are proof tested to 2 times their capacity. 90°-twist-profile hooks save space by holding a load to the side instead of the front. They are proof tested to 1.25 times their capacity.
Powder-coated alloy steel hooks resist mild corrosion. 316 stainless steel resist corrosion from salt water and chemicals.
For technical drawings and 3-D models, click on a part number.
Capacity,




lbs.

Thick.

Hook
Opening

Wd.

Usable


Lg.

Inside


Wd.

Color
Each

Straight Profile

Alloy Steel

200

1/4

"

3/4

"
2

3/4

"

3/4

"
__
0000000
000000
300

5/16

"

3/4

"
2

3/4

"

3/4

"
__
0000000
00000
500

3/8

"
1

1/8

"
4

1/8

"
1

1/8

"
__
0000000
00000
1,000

1/2

"
1

1/2

"
5

1/2

"
1

1/2

"
__
0000000
00000
1,500

5/8

"
1

7/8

"
7"
1

7/8

"
__
0000000
00000
2,000

3/4

"
2

1/4

"
8

1/4

"
2

1/4

"
__
0000000
00000
2,400

7/8

"
2

5/8

"
9

1/2

"
2

5/8

"
__
0000000
000000
3,200
1"
3"
11"
3"
__
0000000
000000

Powder-Coated

Alloy Steel

200

9/32

"
1

1/8

"
4

1/2

"
1

1/8

"
Orange
0000000
00000
400

3/8

"
1

1/2

"
6"
1

1/2

"
Orange
0000000
00000
800

1/2

"
2"
7

1/2

"
2"
Orange
0000000
00000
1,100

5/8

"
2

1/2

"
9"
2

1/2

"
Orange
0000000
00000
1,700

3/4

"
3"
10

1/2

"
3"
Orange
0000000
00000
2,300

7/8

"
3

1/2

"
12"
3

1/2

"
Orange
0000000
000000
2,900
1"
4"
13"
4"
Orange
0000000
000000

316 Stainless Steel

70

1/4

"

3/4

"
2

3/4

"

3/4

"
__
0000000
00000
100

3/8

"
1

1/8

"
4

1/8

"
1

1/8

"
__
0000000
00000
300

1/2

"
1

1/2

"
5

1/2

"
1

1/2

"
__
0000000
00000
500

5/8

"
1

7/8

"
7"
1

7/8

"
__
0000000
00000
600

3/4

"
2

1/4

"
8

1/4

"
2

1/4

"
__
0000000
000000
900

7/8

"
2

5/8

"
9

1/2

"
2

5/8

"
__
0000000
000000
1,000
1"
3"
11"
3"
__
0000000
000000

Galvanized Alloy Steel

100

1/4

"
1

1/4

"
5"
1

1/4

"
__
0000000
00000
200

5/16

"
1

1/4

"
5"
1

1/4

"
__
0000000
00000
300

3/8

"
1

1/2

"
6"
1

1/2

"
__
0000000
00000
600

1/2

"
2"
7"
2"
__
0000000
00000
800

9/16

"
2

1/4

"
9"
2

1/4

"
__
0000000
00000
1,000

5/8

"
2

1/2

"
9"
2

1/2

"
__
0000000
00000
1,700

3/4

"
2

1/4

"
9"
2

1/4

"
__
0000000
00000
2,400

7/8

"
2

5/8

"
10"
2

5/8

"
__
0000000
000000
3,100
1"
3"
11"
3"
__
0000000
000000