Screw-In

Base Spotlight Bulbs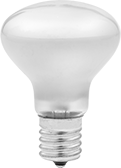 R14
Intermediate
These bulbs produce a narrower, more concentrated beam of light than floodlight bulbs. Brightness is measured in lumens; the higher the lumens, the brighter the bulb. Bulbs with a warm light appearance have yellow tones. Bulbs with a neutral light appearance are commonly used in workspaces. Bulbs with a cool light appearance have white/blue tones and are good for inspecting. A bulb's estimated yearly energy cost is based on 3 hours of usage per day at $0.11 per kWh.
R bulbs have wide beam angles that create broad beams of light. Their length makes them good for use in large can fixtures.
Incandescent bulbs are traditional light bulbs. Many have been phased out due to governmental energy requirements, but some are still available for special applications.
Bulbs that cannot be sold to the listed regions do not meet energy efficiency requirements.
Equiv.




Incand.


Bulb Wattage
Light
Appearance

Brightness,


lumens
Beam
Angle
Light
Technology
Bulb
Material
Color
Wattage
Rated


Life,




hrs.

Est.

Yearly
Energy


Cost,

$
Bulb


Dia.

O'all




Lg.

Cannot
Be
Sold To

Pkg.




Qty.

Pkg.

R14

Bulb—

Intermediate Base

(11/16" Dia.)

120V AC

25W
Warm (2,800K)
150
Not Rated
Incand.
Glass
Frosted
25W
1,500
3.10
1

3/4

"
3

1/2

"
CA
1
0000000
00000