Lenses for Ceiling Lights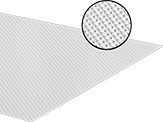 Solid with Prismatic Pattern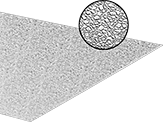 Solid with Cracked Ice Pattern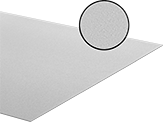 Solid with Smooth Pattern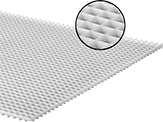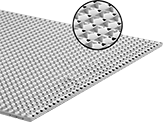 Parabolic
Lenses disperse light to reduce glare and protect bulbs from damage. Cut to size using a band saw or shears.
Solid lenses keep bulbs hidden and distribute light evenly. Lenses with a prismatic or cracked ice pattern distribute light better than smooth lenses. Smooth lenses for LED lights scatter the directed light of an LED better than other solid lenses.
Egg crate and parabolic lenses have an open construction to allow more light through than solid lenses as well as more air circulation to cool bulbs. Parabolic lenses are reflective to direct light downward, which reduces glare.
Polystyrene lenses are the most economical, but they may yellow over time. Acrylic lenses won't turn yellow over time. Polycarbonate lenses are more impact-resistant than acrylic lenses, but they may yellow over time. Aluminum lenses withstand higher temperatures than plastic lenses.
For technical drawings and 3-D models, click on a part number.
For Light Technology
Material
Clarity
Color

Lg.,




ft.

Wd.,




ft.

Thick.

Lg.

Wd.

Dp.

Pkg.




Qty.

Pkg.

Small Pack

Solid with Prismatic Pattern

LED, Fluorescent
Acrylic Plastic
Clear
__
4
2

7/64

"
__
__
__
2
0000000
000000
LED, Fluorescent
Polycarbonate Plastic
Clear
__
4
2

1/8

"
__
__
__
2
000000
000000

Solid with Cracked Ice Pattern

LED, Fluorescent
Acrylic Plastic
Clear
__
4
2

5/64

"
__
__
__
2
0000000
00000

Solid with Smooth Pattern

Fluorescent
Acrylic Plastic
Frosted
__
4
2

5/64

"
__
__
__
2
0000000
000000
LED
Acrylic Plastic
Frosted
__
4
2

5/64

"
__
__
__
2
0000000
000000

Egg Crate

LED, Fluorescent
Polystyrene Plastic
Opaque
White
4
2

3/8

"

1/2

"

1/2

"

3/8

"
2
0000000
00000
LED, Fluorescent
Polystyrene Plastic
Opaque
White
4
2

1/2

"

1/2

"

1/2

"

1/2

"
2
0000000
00000
LED, Fluorescent
Acrylic Plastic
Opaque
White
4
2

3/8

"

1/2

"

1/2

"

3/8

"
2
0000000
00000
LED, Fluorescent
Acrylic Plastic
Opaque
White
4
2

1/2

"

1/2

"

1/2

"

1/2

"
2
0000000
000000
LED, Fluorescent
Aluminum
Opaque
Silver
4
2

1/2

"

1/2

"

1/2

"

1/2

"
2
00000000
000000
LED, Fluorescent
Aluminum
Opaque
White
4
2

1/2

"

1/2

"

1/2

"

1/2

"
2
00000000
000000

Parabolic

LED, Fluorescent
Polystyrene Plastic
Opaque
Silver
4
2

3/8

"

5/8

"

5/8

"

3/8

"
2
0000000
000000

Large Pack

Solid with Prismatic Pattern

LED, Fluorescent
Acrylic Plastic
Clear
__
4
2

7/64

"
__
__
__
10
0000000
000000

Solid with Cracked Ice Pattern

LED, Fluorescent
Acrylic Plastic
Clear
__
4
2

5/64

"
__
__
__
10
0000000
000000

Solid with Smooth Pattern

Fluorescent
Acrylic Plastic
Frosted
__
4
2

5/64

"
__
__
__
10
0000000
000000
LED
Acrylic Plastic
Frosted
__
4
2

5/64

"
__
__
__
10
0000000
000000

Egg Crate

LED, Fluorescent
Polystyrene Plastic
Opaque
White
4
2

3/8

"

1/2

"

1/2

"

3/8

"
5
0000000
000000
LED, Fluorescent
Polystyrene Plastic
Opaque
White
4
2

1/2

"

1/2

"

1/2

"

1/2

"
5
0000000
000000
LED, Fluorescent
Acrylic Plastic
Opaque
White
4
2

3/8

"

1/2

"

1/2

"

3/8

"
5
0000000
000000
LED, Fluorescent
Acrylic Plastic
Opaque
White
4
2

1/2

"

1/2

"

1/2

"

1/2

"
5
0000000
000000
LED, Fluorescent
Aluminum
Opaque
Silver
4
2

1/2

"

1/2

"

1/2

"

1/2

"
5
0000000
000000
LED, Fluorescent
Aluminum
Opaque
White
4
2

1/2

"

1/2

"

1/2

"

1/2

"
5
0000000
000000