Light Meters

A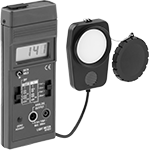 C
Measure light quality and intensity with these meters. They shut off automatically to preserve battery life. These meters are CE marked, so they meet European safety standards. They should not be used with lasers.
Use the data hold function to freeze a measurement on the screen, giving you time to write it down. Some meters also have an analog output, which transmits data to a recorder. Meters with minimum/maximum memory let you save and retrieve the high and low measurements you've taken.
Styles A-C measure brightness in footcandles and lux. One footcandle is one lumen per square foot. One lux is one lumen per square meter. All of these meters measure general lighting. Style A meters also measure white LED light, and Style B meters measure colored LED light. Style C meters measure general lighting only – they are not for use with LED lights.

A
Meters with
Calibration
Certificate

For Light
Technology
For LED
Color
Footcandles
Lux
Accuracy
Batteries
Included
Specifications
Met
Features
Each
LED, CFL, Fluorescent, Halogen, Incandescent, Metal Halide, High-Pressure Sodium, Mercury Vapor
White
0-40,000
0-400,000
±3%
Yes
CE Marked

Auto Power Off, Data Hold, Min./Max. Memory
00000000
0000000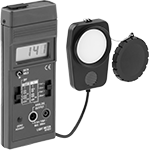 C
Meters with
Calibration
Certificate

For
Light
Technology
Footcandles
Lux
Accuracy
Light
Sensor
Cable

Lg.,

ft.

Output
Type
Batteries
Included
Specifications
Met
Features
Each
CFL, Fluorescent, Halogen, Incandescent, Metal Halide, High-Pressure Sodium, Mercury Vapor
0-5,000
0-50,000
±5%
3
Analog
Yes
CE Marked

Auto Power Off, Data Hold
00000000
0000000