Lightning Protection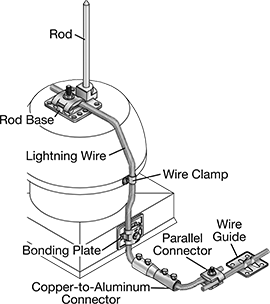 Protect electrical systems from lightning strikes on structures up to seventy-five feet tall. When replacing or adding components to an existing system, choose components that match your existing material. For a new system, choose components of the same material.
Rod bases can be mounted horizontally or vertically.
Wire clamps fold around the wire.
Bonding plates electrically bond your system to a metallic object.
Parallel connectors accept lightning wire and rods.
Joint compounds are recommended for use in corrosive environments. Apply at connection points.
For technical drawings and 3-D models, click on a part number.