Liquid Electrical Tape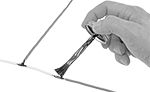 Aerosol Can

Apply this liquid for a skin-tight protective coating that insulates and resists moisture, acids, and corrosion. It adheres to metal, plastic, vinyl, rubber, and composite surfaces.
Liquid rubber is moisture and crack resistant. Use it as a seal on plastic tape. Allow 20 minutes between coats.
Liquid vinyl is for use on electrical connections and terminals.
Liquid that cannot be sold outside the United States is restricted by product labeling requirements.
Size
Net
Weight
Type
Temperature


Range,




°F

Material
Begins
to
Harden
Reaches
Full
Strength
Dielectric
Strength
Voltage
Rating
Specifications
Met
Cannot
Be
Sold To
Choose
a
Color
Each

Liquid Rubber

__
6 oz.
Aerosol Can
-30° to 200°
Rubber
20 min.
24 hrs.
1,400 V/mil
Not Rated
__
Outside United States
Black
0000000
000000
4 fl. oz.
__
Brush-Top Can
-30° to 200°
Rubber
20 min.
24 hrs.
1,400 V/mil
Not Rated
__
Outside United States
00000000
00000

Liquid Vinyl

4 fl. oz.
__
Brush-Top Can
-50° to 250°
Vinyl Plastic
10 min.
24 hrs.
1,080 V/mil
700V
UL 510
__
00000000
00000
32 fl. oz.
__
Brush-Top Can
-50° to 250°
Vinyl Plastic
10 min.
24 hrs.
1,080 V/mil
700V
UL 510
__
00000000
00000