Ball-Lock

Quick-Change

Fixture Clamps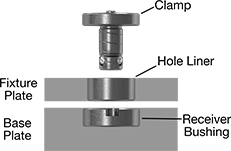 Build these components into fixture plates, machine subplates, and tombstones for quick changes. The system clamps and locates at the same time for accurate positioning with repeatability of ±0.0005". Components are compatible with Jergens Ball-Lock, Carr-Lane Carr Lock, and Kurt PinLock quick change systems.
For accurate positioning, at least two sets of clamps, liners, and receivers are required. Install the receivers in the base plate and the liners in the fixture plate. Then line up the two plates, insert the clamps, and tighten their screws to secure the fixture in place. If more holding capacity is needed, use additional clamps and receivers but omit liners to prevent the clamp from getting stuck in the fixture plate.
Push receiver plugs into unused receivers to prevent chips and coolant from accumulating during machining. When installed, plugs sit flush with the surface of the fixture plate. To remove, thread a screw into the tapped hole in the center and pull up.
For technical drawings and 3-D models, click on a part number.