About Accident Prevention Signs
Lockout Organizing Stations

A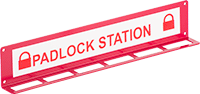 B

C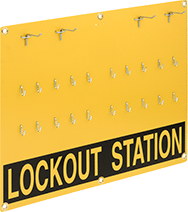 D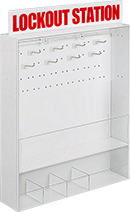 E
Keep padlocks, tags, and other lockout tools neatly stored and ready for use in these easy-to-spot stations. Set them up in a central location in your facility or place them near equipment that needs frequent maintenance. The bright colors and clear labeling remind your team to use lockout procedures when working. These stations help you comply with OSHA 29 CFR 1910.147, which requires you to lock out power sources during maintenance to prevent unexpected machine startups.
Racks and boards have open storage, so you can see and access your tools without the need for keys. These stations make inspections easier, since you can tell at a glance whether everything is in place. Mount them to a wall to create a permanent home for your lockout tools.

C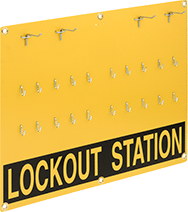 D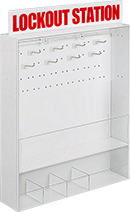 E
Style
Compartment
Type

Ht.

Wd.

Dp.

For

Max.




No.

of
Padlocks

No.

of
Hooks
Included
For


No.

of
Hooks

No.


of
Bins
Bar


Thick.

Mounting
Fasteners
Included

No.


of

Dia.

Each
Each

Plastic

C
Hook
9"
12"
3"
4
5
5
__
__
No
4

3/8

"
0000000
000000
000000
00
D
Hook
19"
12"
3"
10
13
13
__
__
No
4

3/8

"
0000000
00000
000000
00
D
Hook
19"
24"
3"
20
24
24
__
__
No
6

3/8

"
0000000
00000
000000
00
D
Hook
32"
24"
3"
50
54
54
__
__
No
8

3/8

"
0000000
000000
000000
00
E
Hook, Bin, Bar
30"
25"
5

1/4

"
25
8
34
4

3/8

"
No
2

7/32

"
0000000
000000
0000000
00000
Lockout Procedure Stations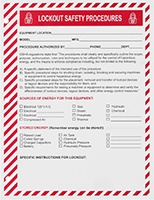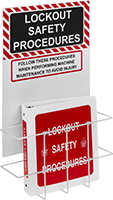 Store all of your lockout safety procedure forms in one place. These stations hold binders that you fill with one form for each piece of equipment that lists required lockouts. Mount these stations near equipment you service frequently—the colorful sign reminds you to grab the binder before starting work.
Using these stations helps you create a program for locking out energy sources such as electricity, hydraulics, and steam that adheres to OSHA 29 CFR 1910.147 standards. To keep your procedures current, you can update these forms to reflect changes to equipment.
Portable/Wall-Mount

Group Lockout Boxes

Box with
Document Display
(Padlocks Not Included)
Carry these boxes from job to job and mount them near equipment to lock out valves, electrical controls, and other machines with fewer padlocks, saving your team time. With these lockout boxes, you only need one padlock to lock out each piece of equipment. The keys for those padlocks are locked in this box and aren't accessible until your team removes all the padlocks from the box. All boxes help you comply with OSHA requirements for controlling hazardous energy.
Boxes with a document display let you view checklists and permits as you lock out equipment, reducing the risk of injury. They stand up to outdoor and other wet environments, since they're stainless steel with an IP rated gasket to protect documents. The windows are made of polycarbonate to resist impacts, so you can't break into the box to access padlocks or keys. Write down permit and work order numbers on the erasable tag.
Color

Lg.

Wd.

Ht.

For

Max.

No.


of Padlocks


(Hole Location)

For

Max.


Padlock
Shackle

Dia.

No.

of
Key
Hooks
For
Use
With
Fasteners
Included

No.

Screw
Size

Window
Material
Environmental
Rating
Specifications
Met
Each

430 Stainless Steel Box with Document Display

Red
12

1/8

"
4

3/4

"
31"
12 (Outside of Box); 12 (Removable Lock Caddy)

9/32

"
12
Air Hoses, Electrical Controls, Electrical Plugs, Gas Cylinders, Valves
No
8
No. 8

Polycarbonate Plastic
IP03

OSHA Compliant 29 CFR 1910.147
000000000
0000000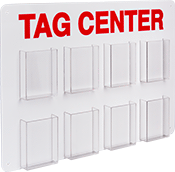 Create a permanent home for keeping frequently used tags handy. These stations have bins that fit standard accident prevention, lockout/tagout, inspection, inventory, and 5S discard tags. You can also use them to display tags that log the status of current or scheduled maintenance.
Ht.

Wd.

Dp.

For

Max.




No.

of
Tags

No.


of
Type

Ht.

Wd.

Dp.

Color
Material
Mounting
Fasteners
Included

Dia.

No.


of
Each
15

3/4

"
23

1/2

"
2"
240
8
Bin
4

1/2

"
3

1/2

"

7/8

"
Clear
Acrylic Plastic

No

3/16

"
4
0000000
000000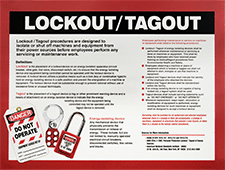 Define lockout and tagout procedures to help prevent unexpected startups during machine maintenance and repair work.
Ht.

Wd.

Thick.

Material
Mount Type
Each
17"
22"
0.026"
Plastic-Laminated Paper
Plain Back
000000
000000
Lockout Signs
Remind your team to lock out machines during maintenance work to avoid accidental startups. These signs are a visual aid to help you comply with OSHA 29 CFR 1910.147 requirements for the control of hazardous energy, such as electricity.
Danger headers are used in extreme conditions to indicate an imminently hazardous situation that, if not avoided, will result in death or serious injury. Caution headers indicate a potentially hazardous situation that, if not avoided, may result in minor or moderate injury. Signs that meet OSHA 29 CFR 1910.145 adhere to safety color standards for indicating hazards.
Attach the adhesive backing on vinyl signs to clean, flat surfaces inside your facility.
Polyethylene signs hold up to impacts, and won't chip or dent easily. They are best for indoor use.
Aluminum signs are tough enough for outdoor use. They hold their shape even after impacts, and won't corrode from weather, washdowns, or chemical exposure.
For technical drawings and 3-D models, click on a part number.
Three-Way

View Lockout Signs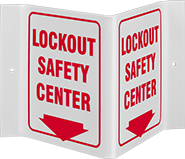 Mark your lockout station with a sign that employees will see from anywhere in the room. When mounted on the wall, these triangular signs pop out like a tent, so workers see them from straight-on as well as from either side of the sign. They'll always know where to find lockout tags, devices, procedures, and other equipment. The signs also serve as a reminder to use lockouts when performing maintenance.
Having a visible lockout station helps your organization comply with OSHA 29 CFR 1910.147, which requires energy sources to be locked out during maintenance.
Ht.

Wd.

Dp.

Thick.

Flange


Wd.

Material
Fasteners
Included
Number
of
Holes
Hole


Dia.

Specifications
Met
Each

Lockout Safety Center with Arrow

(English)—

White with Red Message

6"
9"
4"

1/8

"
1"
Acrylic Plastic

Yes
2

3/16

"
OSHA Compliant 29 CFR 1910.147
0000000
000000
Reference Books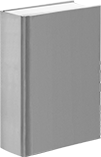 Import regulations restrict sales to the listed jurisdictions/areas.
Title

No.

of
Volumes
Cannot Be
Sold To
Each

Occupational Safety

Lockout/Tagout Compliance Manual
1
Canada
0000000
0000000