Lockout Procedure Stations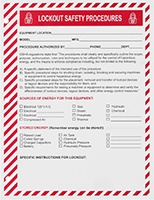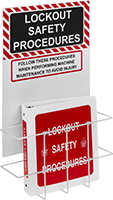 Store all of your lockout safety procedure forms in one place. These stations hold binders that you fill with one form for each piece of equipment that lists required lockouts. Mount these stations near equipment you service frequently—the colorful sign reminds you to grab the binder before starting work.
Using these stations helps you create a program for locking out energy sources such as electricity, hydraulics, and steam that adheres to OSHA 29 CFR 1910.147 standards. To keep your procedures current, you can update these forms to reflect changes to equipment.
Lockout/Tagout

Checklist Sheets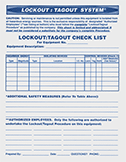 Keep detailed records for lockout/tagout procedures and list employees authorized to perform maintenance for a machine or group of machines.
Ht.

Wd.

Thick.

Material

Pkg.




Qty.

1-4

5-Up

Lockout Tagout

System—

Lockout Tagout Check List

11"
8

1/2

"
0.017"
Cardstock
5
0000000
00000
00000