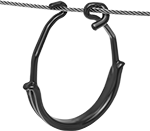 Hang cable and other flexible material beneath wire to prevent it from sagging and swaying. Rings are made of rigid, plastic-coated steel. The plastic coating prevents damage to wire and cable. To install, hook the two ends of the ring around the wire—no fasteners required.
For technical drawings and 3-D models, click on a part number.
Carabiner-Mount

Hook and Loop Cable Ties
Mountable Cable Ties
Hook mount ties hang from an anchor point and have a cable tie at the bottom to suspend a bundle.
Wide and extra wide ties are stronger but less flexible than our narrow and standard cable ties. Use them for heavy duty applications that require extra strength.