Penetrating Lubricants
Cut through dirt, grease, and rust, loosen stuck fasteners, and protect tools and equipment with these thin, multipurpose lubricants.
Lubricants cannot be sold to the listed regions due to import regulations, product labeling requirements, or regulatory limits on VOCs (volatile organic compounds).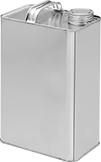 Kroil penetrates deep into stuck fasteners to dissolve rust and lubricate. It also cleans and prevents rust.