Moisture-Resistant

Grease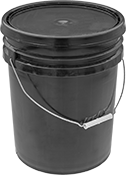 Formulated to adhere to metal parts and stay in place in wet environments, this grease is commonly used in pulp and paper manufacturing and water management facilities.
NLGI viscosity grade is a rating of a grease's consistency. NLGI 0 is about the consistency of brown mustard.
Mineral-oil-based grease, derived from petroleum, is usually more economical than synthetic-oil-based grease.
Grease with lithium thickener offers good heat resistance.
Grease lubricates most efficiently within the listed temperature range. Melting temperature is the point at which grease will fail and run out of equipment, leaving it to run dry.
NLGI Viscosity
Grade
Base Oil
Size
Type

Temp.




Range,

°F

Melting


Temp.,

°F

Color
Each

Mobil Mobilux EP

0—

Lithium Thickener

0
Mineral
5 gal.
Pail
0° to 265°
370°
Brown
0000000
0000000