Moisture-Resistant

Gear Box Grease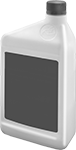 Made with moisture-resistant calcium sulfonate thickener, this grease resists washing off and reduces corrosion and oxidation in wet environments. Its zinc additive neutralizes acid and makes it a good replacement for leaded grease.
NLGI viscosity grade is a rating of a grease's consistency. NLGI 000 is about the consistency of ketchup.
Grease lubricates most efficiently within the listed temperature range. Melting temperature is the point at which grease will fail and run out of equipment, leaving it to run dry.
Each
NLGI Viscosity
Grade
Base Oil
Additive
Net

Weight,




lbs.

Type

Temp.




Range,

°F

Melting


Temp.

Color
Each

Lubriplate

No.

5555—

Calcium Sulfonate Thickener

000
Mineral
Zinc
2
Bottle
-60° to 200°
Not Rated
Off-White
0000000
000000
Package
NLGI Viscosity
Grade
Base Oil
Additive
Net

Weight,




lbs.

Type

Temp.




Range,

°F

Melting


Temp.

Color

Pkg.




Qty.

Pkg.

Lubriplate

No.

5555—

Calcium Sulfonate Thickener

000
Mineral
Zinc
2
Bottle
-60° to 200°
Not Rated
Off-White
12
0000000
0000000