Leather Belt with Lumbar Support Pad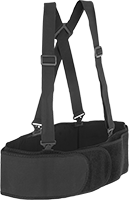 Belt with Shoulder Straps and Lumbar Support Pad
Give your back the extra support it needs for lifting and other strenuous activities.
Belts with lumbar support pad increase the stability and reduce stress in your lower back. Made from leather, they're stiff but lined with a soft suede material.
Belts with shoulder straps and lumbar support pad support your lower back while also providing a gentle pull on the shoulders to promote good posture. The nylon/polyester/latex blend wicks away moisture.