Light Meters

A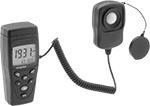 B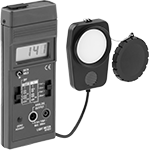 C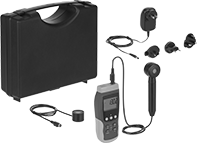 D
Measure light quality and intensity with these meters. They shut off automatically to preserve battery life. These meters are CE marked, so they meet European safety standards. They should not be used with lasers.
Use the data hold function to freeze a measurement on the screen, giving you time to write it down. Some meters also have an analog output, which transmits data to a recorder. Meters with minimum/maximum memory let you save and retrieve the high and low measurements you've taken.
Styles A-C measure brightness in footcandles and lux. One footcandle is one lumen per square foot. One lux is one lumen per square meter. All of these meters measure general lighting. Style A meters also measure white LED light, and Style B meters measure colored LED light. Style C meters measure general lighting only – they are not for use with LED lights.
Style D meters measure the intensity of UV light with two sensors: one for long-wave UVA light and one for short-wave UVC light. They're used in sterilization systems, curing applications, such as coatings and adhesives, and for monitoring blue-light UV radiation from welding equipment. Measurements are clearly shown on the backlit LCD display, so they're easy to read even in low lighting. To track changes over time, set up automatic measurements—you can select any time increment between one and 3,600 seconds. Use the built-in tilt stand to prop meters up, so you don't have to hold them. Store measurements on the standard SD memory card and transfer them to a computer for analysis. Always wear UV-protective glasses and clothing when collecting measurements.
Plug an optional thermocouple probe into Style D meters to measure surface temperature. These probes are often used in curing applications to make sure material has reached the required temperature.