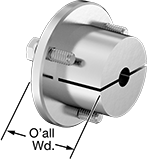 Stainless Steel
The tapered barrel on these bushings is split on both sides, allowing them to contract more tightly around the shaft than quick-disconnect and taper-lock bushings. They're for use with split-tapered sprockets and pulleys of the same bushing style. As you tighten the included screws, the bushing grips the shaft and pulls it into the sprocket or pulley.
304 stainless steel bushings are often used in food-processing plants and other frequently-cleaned areas because washdowns and humidity won't corrode them. They have a pilot hole instead of a finished keyway, so you can bore them to the exact dimensions of your shaft.
For technical drawings and 3-D models, click on a part number.
For Shaft


Dia.

Overall


Wd.

Taper
Fastener Tightening


Torque,

in.-lbs.

Each

304 Stainless Steel

3/8

"-1

1/2

"
1

1/4

"
3°
95
00000000
0000000
Machinable Shaft Ends
One side is unfinished for milling custom pulleys, threaded hubs, sprockets, collars, knobs, sensor targets, or just about anything imaginable; the other side is a one-piece clamping coupling for mounting whatever you've created to your shaft. Slide these ends onto your shaft and tighten the clamping screws for a secure hold that won't damage your shaft.
Use flanged ends to make objects with larger ODs than straight ends, or add mounting holes to create a custom mounting flange for connecting components.
Ends for keyed shafts have keyways that firmly grip the shaft's key to eliminate slipping. They handle higher torque than ends for round shafts.
Carbon steel ends are easier to machine than stainless steel. They have a black-oxide finish that adds a layer of rust resistance but should be used in primarily dry environments.
Stainless steel ends provide the most corrosion resistance but are more difficult to machine than steel.
For technical drawings and 3-D models, click on a part number.

Front

Back


For Shaft


Dia.

Overall


Lg.

OD
For Motion Type
Each

Black-Oxide

1215 Carbon Steel

For Keyed Shafts

1/2

"
2

3/4

"
1

1/4

"
Continuous, Forward/Reverse, Start/Stop
0000000
000000

5/8

"
3

1/4

"
1

1/2

"
Continuous, Forward/Reverse, Start/Stop
0000000
00000

3/4

"
4

1/4

"
1

3/4

"
Continuous, Forward/Reverse, Start/Stop
0000000
00000

7/8

"
4

3/8

"
1

7/8

"
Continuous, Forward/Reverse, Start/Stop
0000000
00000
1"
4

3/4

"
2"
Continuous, Forward/Reverse, Start/Stop
0000000
00000
1

1/8

"
4

3/4

"
2

1/8

"
Continuous, Forward/Reverse, Start/Stop
0000000
00000
1

1/4

"
5"
2

1/4

"
Continuous, Forward/Reverse, Start/Stop
0000000
00000
1

3/8

"
5"
2

3/8

"
Continuous, Forward/Reverse, Start/Stop
0000000
00000
1

1/2

"
5

3/8

"
2

1/2

"
Continuous, Forward/Reverse, Start/Stop
0000000
000000
1

3/4

"
6"
3"
Continuous, Forward/Reverse, Start/Stop
0000000
000000
2"
6

3/4

"
3

1/4

"
Continuous, Forward/Reverse, Start/Stop
0000000
000000

For Round Shafts

1/2

"
2

3/4

"
1

1/4

"
Continuous, Forward/Reverse, Start/Stop
0000000
00000

5/8

"
3

1/4

"
1

1/2

"
Continuous, Forward/Reverse, Start/Stop
0000000
00000

3/4

"
4

1/4

"
1

3/4

"
Continuous, Forward/Reverse, Start/Stop
0000000
00000

7/8

"
4

3/8

"
1

7/8

"
Continuous, Forward/Reverse, Start/Stop
0000000
00000
1"
4

3/4

"
2"
Continuous, Forward/Reverse, Start/Stop
0000000
00000
1

1/8

"
4

3/4

"
2

1/8

"
Continuous, Forward/Reverse, Start/Stop
0000000
00000
1

1/4

"
5"
2

1/4

"
Continuous, Forward/Reverse, Start/Stop
0000000
00000
1

3/8

"
5"
2

3/8

"
Continuous, Forward/Reverse, Start/Stop
0000000
00000
1

1/2

"
5

3/8

"
2

1/2

"
Continuous, Forward/Reverse, Start/Stop
0000000
00000
1

3/4

"
6"
3"
Continuous, Forward/Reverse, Start/Stop
0000000
000000
2"
6

3/4

"
3

1/4

"
Continuous, Forward/Reverse, Start/Stop
0000000
000000

303 Stainless Steel

For Keyed Shafts

1/2

"
2

3/4

"
1

1/4

"
Continuous, Forward/Reverse, Start/Stop
0000000
00000

5/8

"
3

1/4

"
1

1/2

"
Continuous, Forward/Reverse, Start/Stop
0000000
00000

3/4

"
4

1/4

"
1

3/4

"
Continuous, Forward/Reverse, Start/Stop
0000000
000000

7/8

"
4

3/8

"
1

7/8

"
Continuous, Forward/Reverse, Start/Stop
0000000
000000
1"
4

3/4

"
2"
Continuous, Forward/Reverse, Start/Stop
0000000
000000
1

1/8

"
4

3/4

"
2

1/8

"
Continuous, Forward/Reverse, Start/Stop
0000000
000000
1

1/4

"
5"
2

1/4

"
Continuous, Forward/Reverse, Start/Stop
0000000
000000
1

3/8

"
5"
2

3/8

"
Continuous, Forward/Reverse, Start/Stop
0000000
000000
1

1/2

"
5

3/8

"
2

1/2

"
Continuous, Forward/Reverse, Start/Stop
0000000
000000
1

3/4

"
6"
3"
Continuous, Forward/Reverse, Start/Stop
0000000
000000
2"
6

3/4

"
3

1/4

"
Continuous, Forward/Reverse, Start/Stop
0000000
000000

For Round Shafts

1/2

"
2

3/4

"
1

1/4

"
Continuous, Forward/Reverse, Start/Stop
0000000
00000

5/8

"
3

1/4

"
1

1/2

"
Continuous, Forward/Reverse, Start/Stop
0000000
00000

3/4

"
4

1/4

"
1

3/4

"
Continuous, Forward/Reverse, Start/Stop
0000000
00000

7/8

"
4

3/8

"
1

7/8

"
Continuous, Forward/Reverse, Start/Stop
0000000
00000
1"
4

3/4

"
2"
Continuous, Forward/Reverse, Start/Stop
0000000
00000
1

1/8

"
4

3/4

"
2

1/8

"
Continuous, Forward/Reverse, Start/Stop
0000000
00000
1

1/4

"
5"
2

1/4

"
Continuous, Forward/Reverse, Start/Stop
0000000
000000
1

3/8

"
5"
2

3/8

"
Continuous, Forward/Reverse, Start/Stop
0000000
000000
1

1/2

"
5

3/8

"
2

1/2

"
Continuous, Forward/Reverse, Start/Stop
0000000
000000
1

3/4

"
6"
3"
Continuous, Forward/Reverse, Start/Stop
0000000
000000
2"
6

3/4

"
3

1/4

"
Continuous, Forward/Reverse, Start/Stop
0000000
000000

Flanged


For Shaft


Dia.

Overall


Lg.

OD
Flange
OD
For Motion Type
Each

Black-Oxide

1117 Carbon Steel

For Keyed Shafts

1/2

"
1

11/16

"
1

1/4

"
2

15/64

"
Continuous, Forward/Reverse, Start/Stop
0000000
000000

3/4

"
2

1/16

"
1

3/4

"
2

63/64

"
Continuous, Forward/Reverse, Start/Stop
0000000
00000
1"
2

1/4

"
2"
3

15/64

"
Continuous, Forward/Reverse, Start/Stop
0000000
00000

For Round Shafts

1/2

"
1

11/16

"
1

1/4

"
2

15/64

"
Continuous, Forward/Reverse, Start/Stop
0000000
00000

3/4

"
2

1/16

"
1

3/4

"
2

63/64

"
Continuous, Forward/Reverse, Start/Stop
0000000
00000
1"
2

1/4

"
2"
3

15/64

"
Continuous, Forward/Reverse, Start/Stop
0000000
00000

303 Stainless Steel

For Keyed Shafts

1/2

"
1

11/16

"
1

1/4

"
2

15/64

"
Continuous, Forward/Reverse, Start/Stop
0000000
000000

3/4

"
2

1/16

"
1

3/4

"
2

63/64

"
Continuous, Forward/Reverse, Start/Stop
0000000
000000
1"
2

1/4

"
2"
3

15/64

"
Continuous, Forward/Reverse, Start/Stop
0000000
000000

For Round Shafts

1/2

"
1

11/16

"
1

1/4

"
2

15/64

"
Continuous, Forward/Reverse, Start/Stop
0000000
00000

3/4

"
2

1/16

"
1

3/4

"
2

63/64

"
Continuous, Forward/Reverse, Start/Stop
0000000
000000
1"
2

1/4

"
2"
3

15/64

"
Continuous, Forward/Reverse, Start/Stop
0000000
000000