Magnetic Sheet Metal Separators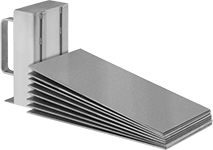 Separate stacked steel sheets without prying, scratching, or bending them. These separators have a magnet which causes your stacked sheets to fan out. When you remove the top sheet, the next sheet automatically moves up. Separators have two nonmagnetic bars to keep plates moving freely.
Note: The number of separators required is approximate and you may need to add more separators.
Max.


Stack

Ht.

Wd.

Thick.

No.

of
Separators
Required

Lg.

Wd.

Ht.

Material

Max.




Temp.,




°F

Each
6

1/2

"
6"
12"
18"-24"
36"-48"
20 ga.-26 ga.
20 ga.-26 ga.
20 ga.-26 ga.
20 ga.-26 ga.
2
1
2
2
3

1/8

"
4

1/4

"
7

3/8

"
Stainless Steel
400°
0000000
0000000
9

1/2

"
6"
12"
18"-24"
36"-48"
20 ga.-26 ga.
20 ga.-26 ga.
20 ga.-26 ga.
20 ga.-26 ga.
2
1
2
2
3

1/8

"
4

1/4

"
10

3/8

"
Stainless Steel
400°
0000000
000000
10"
6"
12"
18"-24"
36"-48"
20 ga.-26 ga.
20 ga.-26 ga.
20 ga.-26 ga.
20 ga.-26 ga.
2
1
2
2
4

5/8

"
6

1/4

"
11"
Stainless Steel
400°
0000000
000000
12"
6"
12"
18"-24"
18"-24"
36"-48"
36"-48"
7 ga.-10 ga.,

1/4

"
7 ga.-10 ga.,

1/4

"
7 ga.-10 ga.


1/4

"
7 ga.-10 ga.


1/4

"
2
1
2
4
3
4
5

1/2

"
8

1/4

"
13"
Stainless Steel
400°
0000000
000000
15

1/2

"
6"
12"
18"-24"
36"-48"
20 ga.-26 ga.
20 ga.-26 ga.
20 ga.-26 ga.
20 ga.-26 ga.
2
1
2
2
3

1/8

"
4

1/4

"
16

3/8

"
Stainless Steel
400°
0000000
000000