Mailbox Posts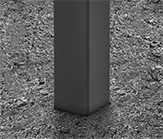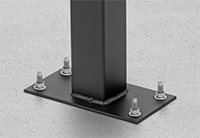 Post

Stud Anchor Kit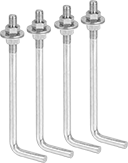 Use these posts to securely mount mailboxes into the ground or concrete. Made of powder-coated aluminum, they won't corrode when exposed to harsh weather. All have a top mounting plate for attaching your mailbox.
For in-ground posts, dig a hole, set the post in the hole, and then fill the hole with concrete.
For bolt-mounted posts, secure the bottom mounting plate of the post to concrete with an anchor kit (sold separately). When mounting to existing concrete, a stud anchor kit is required. For mounting to new concrete, a J-hook anchor kit is required.
Height
Width
Depth
Color
Mounting
Hardware
Included
Mounting
Hole
Diameter
Number of
Mounting
Holes
Mounting
Hardware
Included
Mounting
Hole
Diameter
Number of
Mounting
Holes
Each
Each
Each
48"
3

1/2

"
3

1/2

"
Black
Yes

5/16

"
4
__
__
__
00000000
0000000
000000
00
000000
00
60"
3

1/2

"
3

1/2

"
Black
Yes

5/16

"
4
__
__
__
00000000
000000
000000
00
000000
00
16"
3

1/2

"
3

1/2

"
Black
No

7/16

"
4
No

1/2

"
4
00000000
000000
00000000
000000
00000000
000000
32"
3

1/2

"
3

1/2

"
Black
Yes

5/16

"
4
No

1/2

"
4
00000000
000000
00000000
00000
00000000
00000
42"
3

1/2

"
3

1/2

"
Black
Yes

5/16

"
4
No

1/2

"
4
00000000
000000
00000000
00000
00000000
00000
42"
3

1/2

"
3

1/2

"
White
Yes

5/16

"
4
No

1/2

"
4
00000000
000000
00000000
00000
00000000
00000