Hard Hats with Face Shield and Earmuffs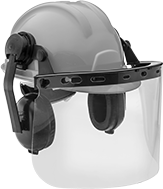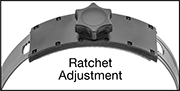 These hard hats give all-in-one head, face, and ear protection. Lift the face shield and earmuffs when not in use.
Hard hats are Type I, Class E, meaning they protect against blows to the top of the head only and are proof-tested at 20,000 volts. They have a ratchet suspension that adjusts with an easy-turn knob.
Color
Number of
Suspension
Points
Material
Hat
Size
Noise
Reduction


Rating,

dBA
Ear
Cup
Color

Ht.

Wd.

Thick.

Material
Color
Includes
Specifications
Met
Each

Ratchet Adjustment

Black
6
Polyethylene Plastic
6-8

5/8

24
Black
8"
15

1/2

"
0.040"
Polycarbonate Plastic
Clear
Sweatband
ANSI S3.19, ANSI/ISEA Z87.1, ANSI/ISEA Z89.1
00000000
000000
Blue
6
Polyethylene Plastic
6-8

5/8

24
Black
8"
15

1/2

"
0.040"
Polycarbonate Plastic
Clear
Sweatband
ANSI S3.19, ANSI/ISEA Z87.1, ANSI/ISEA Z89.1
00000000
00000
Fluorescent Green
6
Polyethylene Plastic
6-8

5/8

24
Black
8"
15

1/2

"
0.040"
Polycarbonate Plastic
Clear
Sweatband
ANSI S3.19, ANSI/ISEA Z87.1, ANSI/ISEA Z89.1
00000000
00000
Orange
6
Polyethylene Plastic
6-8

5/8

24
Black
8"
15

1/2

"
0.040"
Polycarbonate Plastic
Clear
Sweatband
ANSI S3.19, ANSI/ISEA Z87.1, ANSI/ISEA Z89.1
0000000
00000
Red
6
Polyethylene Plastic
6-8

5/8

24
Black
8"
15

1/2

"
0.040"
Polycarbonate Plastic
Clear
Sweatband
ANSI S3.19, ANSI/ISEA Z87.1, ANSI/ISEA Z89.1
00000000
00000
White
6
Polyethylene Plastic
6-8

5/8

24
Black
8"
15

1/2

"
0.040"
Polycarbonate Plastic
Clear
Sweatband
ANSI S3.19, ANSI/ISEA Z87.1, ANSI/ISEA Z89.1
00000000
00000
Yellow
6
Polyethylene Plastic
6-8

5/8

24
Black
8"
15

1/2

"
0.040"
Polycarbonate Plastic
Clear
Sweatband
ANSI S3.19, ANSI/ISEA Z87.1, ANSI/ISEA Z89.1
00000000
00000