Waste Containers for Sharp Objects

A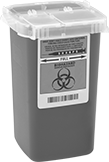 E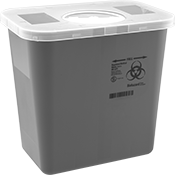 F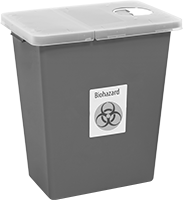 G
Dispose of razor blades and other sharp objects with these single-use, sealable containers. They are also known as sharps containers and are puncture resistant. Not for landfill disposal.
Biohazard containers can also be used for needles.
Styles E-H are leak resistant. The exterior can be sterilized with steam.
Plastic
Step-Open

Waste Containers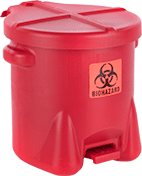 D
Open these plastic waste containers with your foot to discard trash without touching the lid. They help you comply with OSHA sanitation standards, which require storing waste that does not leak and keeps out rodents.
FM-approved waste containers prevent internal fires by restricting oxygen flow.
Style D waste containers are designed to temporarily store potential biohazards. They're red in color, have a biohazard label, and won't leak, so they're consistent with OSHA 29 CFR 1910.1030 requirements for exposure to blood-borne pathogens.
Style

Capacity,




gal.

Dia.

Ht.

Circumference
Mobility
Message
Specifications
Met
Color
Each
D
6
13

1/2

"
16"
42"
Stationary
Biohazard
FM Approved, OSHA Compliant 29 CFR 1910.1030
Red
0000000
000000
D
10
18"
18"
57"
Stationary
Biohazard
FM Approved, OSHA Compliant 29 CFR 1910.1030
Red
0000000
000000
D
14
18"
21"
57"
Stationary
Biohazard
FM Approved, OSHA Compliant 29 CFR 1910.1030
Red
0000000
000000