Ultra-Conformable

Polyurethane Foam Sheets and Strips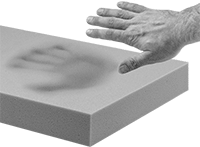 Commonly called memory foam and Confor, these sheets and strips have the best cushioning qualities of all the foam we offer. They take several seconds to recover from compression, but maintain their resiliency over time. These sheets and strips are widely used in packaging applications to absorb shock and damp vibration; they are also found in seat cushions. Foam has open-cell construction, which allows water, air, and gases to be absorbed.
For technical drawings and 3-D models, click on a part number.