About Wire Cloth and Plastic Mesh
Sanitary Precision Stainless Steel Wire Cloth

Designed for use in food, pharmaceutical, and other sanitary environments, this precision wire cloth is sintered (fused together) to create a strong, smooth surface that's free of crevices where contaminants can collect. Made of 316 stainless steel, it won't corrode from frequent washdowns with harsh cleaners and sanitizers. It complies with FDA design requirements for equipment used with food.
Often used in sieves and vibratory shakers, the openings of this wire cloth have a tight size tolerance for accurate, consistent sifting results. It handles heavier materials and higher washing pressures than our standard precision wire cloth while keeping its tight size tolerance. It also won't fray.

Certificates with a traceable lot number are available for these products. Download certificates from ORDER HISTORY after your order ships.
Porous PTFE Film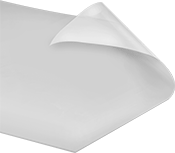 Color:

White
Maximum

Temperature:

500° F

Specifications

Met:

UL

746C,

UL 94 V-0
Shield vents on electronic and automotive equipment, such as cell phone microphones, from water, dirt, and debris without blocking them entirely. This film has tiny holes to let air, gas, and vapors pass through. Because it's made of PTFE, it wicks away water. It also won't react with most chemicals, though it can break down from alkali metal and high-temperature fluorinated agents. IP rated, this film stands up to dust, weather, washdowns, and even brief submersion.
For technical drawings and 3-D models, click on a part number.
Porous PTFE
Adhesive-Back

Discs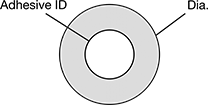 Color:

White
Maximum

Temperature:

250° F
Stick these discs onto breather and other circular vents to guard against water and dirt without obstructing flow. Often used in the electronic and automotive industries, they have very small holes so air, gas, and vapor can still pass through. These discs are made of PTFE to wick water away. They also won't break down from most chemicals, except alkali metal and high-temperature fluorinated agents.
IP rated except for their adhesive, all seal out dust and stand up to some submersion. IP65-rated discs also handle low-pressure washdowns, while IP66-rated discs withstand high-pressure washdowns.
Thickness
Overall
Thickness
Removes Particle
Size Down


To,

microns
Airflow @
Surface
Area
ID
Location
Type
Thickness
Environmental
Rating

Pkg.




Qty.

Pkg.

Small Pack

0.007"
0.015"
0.4
3.8 cfm @ 1 sq. in.

9/32

"
Edge
Acrylic
0.008"
IP67

50
0000000
000000
0.01"
0.018"
0.1
0.2 cfm @ 1 sq. in.

9/32

"
Edge
Acrylic
0.008"
IP66, IP68
50
0000000
00000
0.01"
0.018"
0.1
1.8 cfm @ 1 sq. in.

9/32

"
Edge
Acrylic
0.008"
IP65, IP68
50
0000000
00000

Large Pack

0.007"
0.015"
0.4
3.8 cfm @ 1 sq. in.

9/32

"
Edge
Acrylic
0.008"
IP67

100
0000000
00000
0.01"
0.018"
0.1
0.2 cfm @ 1 sq. in.

9/32

"
Edge
Acrylic
0.008"
IP66, IP68
100
0000000
000000
0.01"
0.018"
0.1
1.8 cfm @ 1 sq. in.

9/32

"
Edge
Acrylic
0.008"
IP65, IP68
100
0000000
00000