About Wire Cloth and Plastic Mesh
Stainless Steel Wire Cloth
This wire cloth is commonly used to make strainers, filter screens, and sieves.
304 stainless steel has good corrosion and abrasion resistance.
For technical drawings and 3-D models, click on a part number.
Screens for Sieve Shakers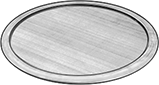 Designed to fit standard Sweco and Kason vibratory shakers, use these screens to sift nonabrasive materials, such as flour, grain, and powdered metal.
Mesh Size

Opening
Size
Wire


Dia.

Dp.

Lip


Wd.

Frame Material
Screen Material
Each
165 × 165

0.0042"
0.002"

7/8

"

1/2

"
304 Stainless Steel
304 Stainless Steel
00000000
0000000
165 × 165

0.0042"
0.002"

7/8

"

1/2

"
304 Stainless Steel
304 Stainless Steel
00000000
000000
165 × 165

0.0042"
0.002"

7/8

"

1/2

"
304 Stainless Steel
304 Stainless Steel
00000000
000000
165 × 165

0.0042"
0.002"

7/8

"

1/2

"
304 Stainless Steel
304 Stainless Steel
00000000
000000
165 × 165

0.0042"
0.002"

7/8

"

1/2

"
304 Stainless Steel
304 Stainless Steel
00000000
000000