Air-Powered

Vibrating Feeders
These vibrators have a muffler and an air cushion prevent metal-to-metal contact. They have a built-in vibrator that shakes material to stimulate flow through the trough. They're often used to feed material in mixing or packaging operations. All require a solenoid valve (sold separately).
Vibrating feeders with a 304 stainless steel trough are often used in wet and corrosive conditions.
For technical drawings and 3-D models, click on a part number.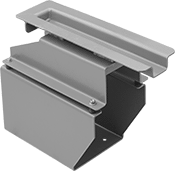 Vibrating Feeder
Capacity,




lbs./hr.

Pipe
Size

Thread
Type
Gender
Air Consumption
@ 80

psi,

cfm

Volume,


dBA

Lg.

Wd.

Dp.

Ht.

Each

304 Stainless Steel Trough

1,250

1/4

NPT

Female
7.0
86
12"
1

1/2

"
1"
11"
0000000
000000000
4,000

1/4

NPT

Female
7.0
86
18"
3"
1

1/2

"
11

1/2

"
0000000
00000000
8,000

1/4

NPT

Female
16.0
90
20"
4"
2

1/2

"
12

1/2

"
0000000
00000000
10,000

1/4

NPT

Female
16.0
90
24"
5"
2

1/2

"
11"
0000000
00000000

Steel Trough

1,250

1/4

NPT

Female
7.0
86
12"
1

1/2

"
1"
11"
0000000
00000000
4,000

1/4

NPT

Female
7.0
86
18"
3"
1

1/2

"
11

1/2

"
0000000
00000000
8,000

1/4

NPT

Female
16.0
90
20"
4"
2

1/2

"
12

1/2

"
0000000
00000000
10,000

1/4

NPT

Female
16.0
90
24"
5"
2

1/2

"
11"
0000000
00000000
Pipe
Size

Thread
Type
Gender
Conduit
Port Size
Wire Connection
Type
Current
Material

Lg.

Ht.

Each

1/4

NPT

Female

1/2

Wire Leads
0.35A
Brass
3"
3"
0000000
0000000