Stainless Steel Mixer Propellers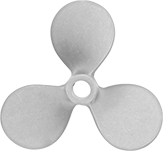 Left Hand

Right Hand
Made from 316 stainless steel, these propellers have excellent corrosion resistance. Propellers with a steeper pitch create more flow for vigorous mixing.
Selecting a Left-Hand or Right-Hand Propeller—Propellers direct flow downward or upward based on the rotation of your shaft. Most mixers require a left-hand propeller. To determine whether you need a left- or right-hand propeller, view your existing propeller from the side. The blades of a left-hand propeller point up to the left, and the blades of a right-hand propeller point up to the right. On most mixers, the shaft and propeller move clockwise when viewed from above.
Left-hand propellers direct flow downward for efficient mixing.
Right-hand propellers direct flow upward for aeration.
For technical drawings and 3-D models, click on a part number.
Dia.

Pitch
Hub


Ht.

Material
Includes
Each
Each
3"
3"
1

1/8

"
316 Stainless Steel
One Set Screw
0000000
000000
000000
000000
3"
3"
1

1/8

"
316 Stainless Steel
Two Set Screws
0000000
00000
0000000
00000
4"
4"
1

1/8

"
316 Stainless Steel
Two Set Screws
0000000
000000
0000000
000000
5"
5"
1

1/4

"
316 Stainless Steel
Two Set Screws
000000
000000
0000000
000000
3"
3"
1

1/8

"
316 Stainless Steel
Two Set Screws
0000000
00000
0000000
00000
3"
4

1/2

"
1

1/4

"
316 Stainless Steel
Two Set Screws
00000000
000000
000000
00
3

1/2

"
3

1/2

"
1

1/8

"
316 Stainless Steel
Two Set Screws
0000000
00000
0000000
00000
4"
4"
1

1/8

"
316 Stainless Steel
Two Set Screws
00000000
000000
00000000
000000
4"
6"
1

1/4

"
316 Stainless Steel
Two Set Screws
00000000
000000
000000
00
4

1/2

"
4

1/2

"
1

1/4

"
316 Stainless Steel
Two Set Screws
0000000
000000
000000
00
5"
5"
1

1/4

"
316 Stainless Steel
Two Set Screws
00000000
000000
00000000
000000
5"
7

1/2

"
1

1/4

"
316 Stainless Steel
Two Set Screws
00000000
000000
000000
00
6"
6"
1

1/4

"
316 Stainless Steel
Two Set Screws
0000000
000000
0000000
000000
7"
7"
1

1/2

"
316 Stainless Steel
Two Set Screws
0000000
000000
0000000
000000
8"
8"
1

3/4

"
316 Stainless Steel
Two Set Screws
0000000
000000
0000000
000000
10"
10"
2

1/4

"
316 Stainless Steel
Two Set Screws
0000000
000000
0000000
000000
3"
3"
1

1/8

"
316 Stainless Steel
Two Set Screws
0000000
00000
0000000
00000
3"
4

1/2

"
1

1/4

"
316 Stainless Steel
Two Set Screws
00000000
000000
000000
00
3

1/2

"
3

1/2

"
1

1/8

"
316 Stainless Steel
Two Set Screws
0000000
00000
0000000
00000
4"
4"
1

1/8

"
316 Stainless Steel
Two Set Screws
00000000
000000
00000000
000000
4"
6"
1

1/4

"
316 Stainless Steel
Two Set Screws
00000000
000000
000000
00
4

1/2

"
4

1/2

"
1

1/4

"
316 Stainless Steel
Two Set Screws
0000000
000000
000000
00
5"
5"
1

1/4

"
316 Stainless Steel
Two Set Screws
00000000
000000
00000000
000000
5"
7

1/2

"
1

1/4

"
316 Stainless Steel
Two Set Screws
00000000
000000
000000
00
6"
6"
1

1/4

"
316 Stainless Steel
Two Set Screws
0000000
000000
0000000
000000
6"
9"
1

1/4

"
316 Stainless Steel
Two Set Screws
00000000
000000
000000
00
7"
7"
1

1/2

"
316 Stainless Steel
Two Set Screws
0000000
000000
0000000
000000
8"
8"
1

3/4

"
316 Stainless Steel
Two Set Screws
0000000
000000
0000000
000000
9"
9"
2

1/4

"
316 Stainless Steel
Two Set Screws
0000000
000000
000000
00
10"
10"
2

1/4

"
316 Stainless Steel
Two Set Screws
0000000
000000
0000000
000000
3"
3"
1

1/8

"
316 Stainless Steel
Two Set Screws
0000000
00000
000000
00
3

1/2

"
3

1/2

"
1

1/8

"
316 Stainless Steel
Two Set Screws
000000
00000
0000000
00000
4"
4"
1

1/8

"
316 Stainless Steel
Two Set Screws
00000000
000000
00000000
000000
4

1/2

"
4

1/2

"
1

1/4

"
316 Stainless Steel
Two Set Screws
0000000
000000
000000
00
5"
5"
1

1/4

"
316 Stainless Steel
Two Set Screws
00000000
000000
00000000
000000
6"
6"
1

1/4

"
316 Stainless Steel
Two Set Screws
0000000
000000
0000000
000000
7"
7"
1

1/2

"
316 Stainless Steel
Two Set Screws
00000000
000000
00000000
000000
8"
8"
1

3/4

"
316 Stainless Steel
Two Set Screws
00000000
000000
00000000
000000
9"
9"
2

1/4

"
316 Stainless Steel
Two Set Screws
00000000
000000
000000
00
11"
16"
2

3/8

"
316 Stainless Steel
Two Set Screws
00000000
000000
000000
00
4"
4"
1

1/8

"
316 Stainless Steel
Two Set Screws
0000000
000000
000000
00
4

1/2

"
4

1/2

"
1

1/4

"
316 Stainless Steel
Two Set Screws
0000000
000000
000000
00
5"
5"
1

1/4

"
316 Stainless Steel
Two Set Screws
0000000
000000
0000000
000000
6"
6"
1

1/4

"
316 Stainless Steel
Two Set Screws
00000000
000000
00000000
000000
7"
7"
1

1/2

"
316 Stainless Steel
Two Set Screws
00000000
000000
00000000
000000
8"
8"
1

3/4

"
316 Stainless Steel
Two Set Screws
0000000
000000
0000000
000000
8"
12"
1

3/4

"
316 Stainless Steel
Two Set Screws
00000000
000000
000000
00
9"
9"
2

1/4

"
316 Stainless Steel
Two Set Screws
00000000
000000
000000
00
10"
10"
2

1/4

"
316 Stainless Steel
Two Set Screws
00000000
000000
00000000
000000
12"
12"
2

1/4

"
316 Stainless Steel
Two Set Screws
00000000
000000
00000000
000000
6"
6"
1

1/4

"
316 Stainless Steel
Two Set Screws
00000000
000000
00000000
000000
7"
7"
1

1/2

"
316 Stainless Steel
Two Set Screws
000000
000000
0000000
000000
8"
8"
1

3/4

"
316 Stainless Steel
Two Set Screws
00000000
000000
00000000
000000
10"
10"
2

1/4

"
316 Stainless Steel
Two Set Screws
0000000
000000
0000000
000000
12"
12"
2

1/4

"
316 Stainless Steel
Two Set Screws
00000000
000000
00000000
000000
14"
14"
3"
316 Stainless Steel
Two Set Screws
00000000
000000
00000000
000000
13"
20"
3"
316 Stainless Steel
Two Set Screws
00000000
000000
000000
00