Engine Oil
Primarily for use in automotive applications, this oil also works well with most machinery.
Viscosity is the thickness of an oil. The higher the grade, the thicker the oil, and the less it flows.
Mineral oil is derived from petroleum and is more economical than synthetic oil. Mobil Delvac MX provides outstanding rust protection and thermal stability in high-performance applications.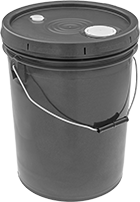 SAE Viscosity
Grade
Size
Type

Temp.

Range,

°F

Color
With
Detergent
Each

Mobil Delvac

MX—

Mineral Base Oil

15W-40
5 gal.
Pail
0° to Not Rated
Amber
Yes
0000000
0000000